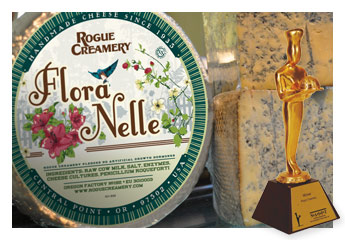 Rogue Creamery Wins sofi Gold at the 2012 Fancy Food Show
June 25, 2012 • Washington, D.C.
Rogue Creamery wins award for newest blue cheese,
Flora Nelle
, at the Summer Fancy Food Show in Washington, D.C. The awards ceremony was hosted by world famous Chef José Andrés. Chef Andrés presented David Gremmels, co-owner of Rogue Creamery, a gold sofi award for Flora Nelle in the USDA-Certified Organic Product. "We are most grateful for this SOFI award as it not only recognizes the delicious flavor, and beautiful label of this organic original blue, but also recognizes the hard work and passion of our talented team and celebrates the names of our grandmothers Florence and Nelle" said co-owner Gremmels. During the 2012
Annual National Association for Specialty Food Trade (NASFT) sofi Awards
competition in April, Rogue Creamery's Flora Nelle was selected as a silver finalist in the USDA-Certified Organic Product category. It was an honor for this cheese to have been selected because this year yielded the most entries ever. This recognition represents the best specialty food and beverage in each class chosen by members of the specialty food industry.
Flora Nelle is the only blue at Rogue Creamery made with pasteurized cow's milk. This cheese was created to support the Australian market. It has a distinct appearance with many veins of blue mold that are encouraged to develop throughout the paste. The result is a robust and piquant blue with subtle hints of blueberry and a crumbly but creamy texture. Great accompaniments include port-soaked figs, sweet Sauterne or PX Sherry, salads with toasted pecans or pizza with Coppa and caramelized onions.
Flora Nelle is a naturally rinded pasteurized blue set with calf rennet. The paste is specked with beautiful blue blooms and blue green veins and creates savory, tropical & sweet cream flavors. The dusty rind enhances the spicy nutty and intensely blue flavors framing the Rogue Valley Terroir.
The five pound (2.2 kg) wheels
are made by hand and aged in specially-constructed caves. The cheese ripens from naturally occurring molds found in the Rogue River Valley and, therefore, reflects a deep connection to the land. After more than five years in the making, the recipe was finalized in September 2010 and first released just after Thanksgiving. "We had to come up with a good production cheese that not only met the flavor and aging goals, but would still be viable labor-wise; it had to be reasonable to make by hand on a commercial scale" said co-owner Cary Bryant. Before even reaching her first birthday, Flora Nelle had already won an award, second place at the 2011 U.S. Championship Cheese Contest.
Rogue Creamery was founded in 1933 by Thomas Vella. In the 1950s it began making some of the country's best blue cheese. Rogue Creamery's
Rogue River Blue
was crowned
Best in Show
for the second time in three years in 2011 at the American Cheese Society Competition in Montreal, Quebec, beating out 1675 other competitors. They offer the only vertically integrated third party certified sustainable cheese in the U.S. Rogue Creamery is certified sustainable by Food Alliance, Steritech and organic by Oregon Tilth.
Click here to order Flora Nelle!