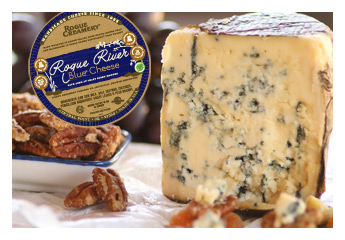 Rogue River Blue mentioned on CNN Eatocracy
October 6, 2011 • CNN Eatocracy
5@5 - American cheeses to try right now
5@5 is a daily, food-related list from chefs, writers, political pundits, musicians, actors, and all manner of opinionated people from around the globe.
The label 'American cheese' gets a bad rap because of plastic-wrapped singles. Though some may argue the processed cheese slices are the necessary ingredient for the best grilled cheese sandwich, it's safe to say you won't see those slimy suckers flopping onto the cheese plate du jour any time soon.
But American cheese - American-made cheese, that is - isn't as flimsy as its made out to be. And fromager Dimitri Saad says it's about time our cheese plate is proud to be an American.
Five American-Made Cheeses to Try Right Now: Dimitri Saad
1.
O'Banon, Capriole Dairy
"Located in southern Indiana, cheesemaker Judy Schad and her family bought the farm in 1976. They brought in their first goat the following year, and now maintain a self-sustaining herd of about 500. They make several award-winning cheeses. The O'Banon is an American twist on a French classic. This fresh and rindless goat cheese is wrapped in chestnut leaves that have been soaked in Woodford Reserve Bourbon.
It's creamy and tangy, getting denser as it ages, with a little kick from the bourbon. This cheese is a great start to your cheese plate.
Paired with cider-poached apples or pears, it's the perfect combination to celebrate autumn."
2. Moses Sleeper,
Jasper Hill Farm
"Andy and Mateo Kehler founded Jasper Hill Farm in Greensboro, Vermont, with the dual purpose of returning to the beautiful place where they spent their summers growing up and creating a value-added business that could help revive the ailing dairy industry in Vermont.
There are two sides to the business: the farm, which milks Ayrshire cows and produces five cheeses; and the Cellars - a 22,000 square foot underground facility with seven vaults where cheeses from several farms are aged and cared for until perfectly ripe, then packaged and shipped out. It is the first of its kind in the United States.
Named after a Revolutionary soldier from the area, Moses Sleeper is a soft-ripened, cow's milk cheese with a bloomy rind (like Brie). Aged for three to six weeks, it is buttery and savory. Milder when younger, the vegetal, mushroomy flavors become more pronounced as it ages.
Paired with a crunchy yet sweet caramel popcorn, Moses Sleeper is bound to please even the most tentative guest."
3.
Bossa, Green Dirt Farm
"Green Dirt Farm is a small farm dedicated to producing the best grass-fed, farmstead, sheep's milk cheeses. The farm is set in the Missouri River Valley, about 40 miles northwest of Kansas City, Missouri. The care with which they raise their sheep and the variability in the pastures as the seasons change is reflected in the selection of cheeses they make.
Bossa is a small, round, surface-ripened cheese. Washed in a brine solution, the white mold, which would result in a bloomy rind, is removed and replaced with the B.linens bacteria, resulting in an orange-colored rind with a distinctive aroma and flavor.
Musty and a little pungent, the result is an unctuous and gooey cheese with more meaty and savory flavors. Washed sheep's milk cheeses are rare, even in Europe, and this one is delicious.
Paired with roasted mushrooms, the still soft yet more intense Bossa will prepare your palate for the stronger end of the cheese plate."
4.
Cabot Clothbound Cheddar
, Cabot Creamery
"You may already be familiar with cheddar cheese from Cabot Creamery, but this cheddar is not like any of the ones you find shrink-wrapped on the shelves of your supermarket. In 2003, Cabot Creamery approached the Cellars at Jasper Hill and asked them to age a special batch of English-style clothbound cheddar. The result was an award-winning cheese and a relationship that has driven the economic model put forward by the Cellars.
Made from the milk from a single herd, the Cabot Clothbound Cheddar is a 35-pound wheel wrapped in cloth and aged for 10 to 14 months.
Firm and crumbly, it has more nutty, butterscotch and caramel flavors than other bandaged cheddars.
Paired with a whole-grain beer mustard, or even a nut brittle, this cheddar is a tasty transition from the pungent washed-rind to the spicy blue finale."
5. Rogue River Blue, Rogue Creamery
"Rogue Creamery was founded in the 1930s in Central Point, Oregon. After surviving the Great Depression and contributing to the war effort of World War II, the creamery began producing blue cheese in 1955 after a trip to France where the owner Tom Vella visited the Roquefort Association.
Upon his return, he designed a building which successfully recreated the atmosphere of the limestone caves of Cambalou where Roquefort is aged. The result has been a string of award-winning artisan blue cheeses. The Rogue River Blue is arguably the best example, having won Best-of-Show at the American Cheese Society Competition in 2009 and 2011.
This cheese is made with late-season milk produced after the autumnal equinox. At this time, the cows graze on grasses renewed by cooler temperatures and make milk that is richer and higher in butterfat. After maturation, the cheese is wrapped in Syrah grape leaves from Carpenter Hill Vineyard which have been macerated in Clear Creek Pear Brandy. Available for a limited time each year, get your hands on this cheese while you can.
Paired with pear butter, or some apple chips, this blue cheese will complete any cheese plate and end the meal on a high note."
From:
http://eatocracy.cnn.com/2011/10/06/55-american-cheeses-to-try-right-now/