Edamame Salad with Morimoto Soba Ale Cheddar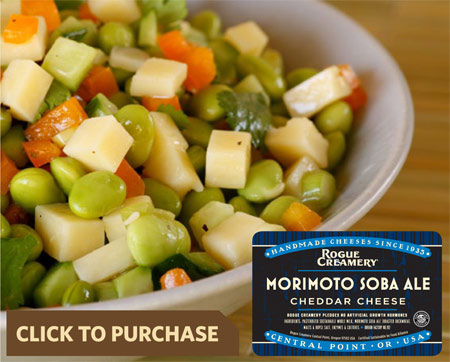 (4 servings)
This Asian-inspired simple salad features nutritious and versatile edamame — young, tender soybeans — and our Morimoto Soba Ale Cheddar. Make this salad a few hours ahead and toss in cheese just prior to serving.
12 oz. frozen edamame beans, shelled
3 tbsp. neutral flavored oil
1 clove garlic, minced
1 tbsp. rice vinegar
1 tbsp. sugar
½ tsp. sesame oil
½ tsp. salt & pepper to taste
½ tsp. siracha or other hot sauce (optional)
½ c. red pepper, diced
½ c. seeded cucumber, diced
¼ c. green onion, thinly sliced
8 oz. Rogue Creamery Morimoto Soba Ale Cheddar, ½" dice
3 tbsp. cilantro
Boil the edamame in lightly salted water according to package directions. Drain and rinse with cool water. Set aside.
Combine neutral flavored oil with minced garlic in a small bowl. Set aside for 10 minutes to infuse and strain before use to moderate garlic flavor. In a medium bowl, combine infused oil, rice vinegar, sugar and sesame oil. Whisk until sugar is absorbed.
Chop peppers & cucumbers evenly to your preferred size dice. In a large bowl, combine cooked edamame, peppers, cucmbers and onions. Toss with vinaigrette. Chill at least 2 hours or overnight.
Just before serving, toss in cilantro and cheese cubes. Serve immediately.
Click here to order Morimoto Soba Ale Cheddar!
< FROM THE AUGUST 2012 NEWSLETTER