ROGUE CREAMERY RIDES FOR ARTHRITIS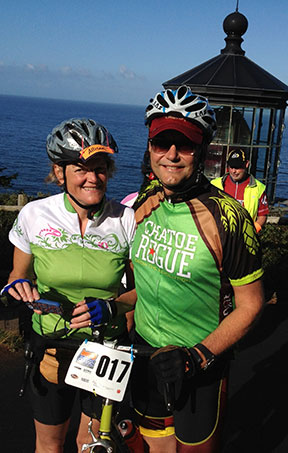 Rogue Creamery is well represented at the 2012 Arthritis Foundation's People Coast Classic for the second year in a row. This year, David Gremmels and Cary Bryant assembled a team of ten riders in support of arthritis research. David's grandmother, Nelle, inspired his six-day ride. Visit Team Nellie Green's page

David's grandmother Nelle suffered from arthritis, but that didn't stop her from delivering fresh made cinnamon rolls and farmstead raspberries to her customers. David remembers the smell of those rolls even now, and in his mind, sees Nelle pedaling off on a trike, the basket full. Today, David credits his support of the Arthritis Foundation and his passion for biking to his grandmother Nelle.

Rogue Creamery rides in support of arthritis research at The People's Coast Classic, September 9-14, 2012 to benefit the Arthritis Foundation. David Gremmels, Cary Bryant and eight others on the Rogue Creamery's Team Nellie Green will start in Astoria, Oregon and bike along the coast to Brookings over the six day event. Each rider has committed to raising at least $2,500 in support of arthritis, and as a fundraising incentive, Rogue Creamery has challenged riders with a 12 month artisan cheese of the month for all those who exceed their goal by at least $7,500.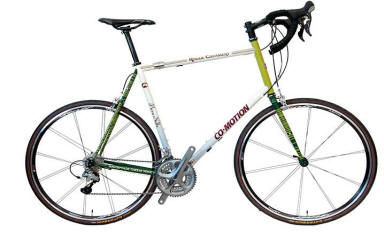 70 riders have registered for the third year of The People's Coast Classic, pledging to raise more than $200,000 in support of the Arthritis Foundation's mission to improve lives through prevention, control and cure of arthritis.

It's a spectacular ride, with incredible ocean views and demanding hills, more than 300 miles along Highway 101. "I never thought it would be possible to ride so many miles," says David Gremmels, co-owner with Cary Bryant of Rogue Creamery in Central Point. "One of the things that opened the door for us was Rogue Creamery's Nellie Green Pedal Power Program." Nellie Green Pedal Power offers Rogue Creamery employees monthly incentives if they bike, walk, carpool , use public transportation or use a vehicle getting 50 mpg or greater. Training for the Peoples Coast Classic fit right in with Gremmels and Bryant's daily commute, about 24 miles a day. "Team members aren't surprised when David and Cary get to work and they're flushed and glowing or if they're late because of a flat tire," says Mimi Harlan, Rogue Creamery's Outreach Coordinator. "It's great," says Gremmels. "Both Cary and I discovered the rider within ourselves. And me? I'm addicted."

The Center for Disease Control (CDC) estimates that there are over 50 million people in the United States diagnosed with arthritis, which is over one-fifth of the general population. Their estimate grows to 67 million, or one-quarter of the general population, by the year 2030. Arthritis is a disease that affects people of all demographics, including 300,000 children affected by chronic auto-immune diseases conditions. The CDC also estimates that roughly one-third of diagnosed cases of arthritis result in some form of limited mobility or disability and costs the US economy $128 billion annually.

"We invite everyone to pledge and support the Arthritis Foundation," encourages Gremmels. "Join us! And find your inner rider!"

To pledge your support for arthritis, visit Team Nellie Green's page and give from the heart. It's never too late!

>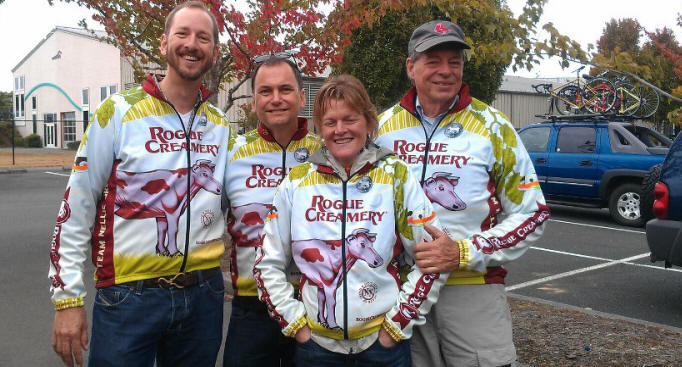 Cary Bryant, David Gremmels (Rogue Creamery) and Allison Hooper (Vermont Butter and Creamery) and Don Hooper gearing up for the 2012 People's Coast Classic ride, September 9-14, 2012. Note the latest bike fashion gear, custom-branded for Rogue Creamery by PrimalWear of Denver, Colorado.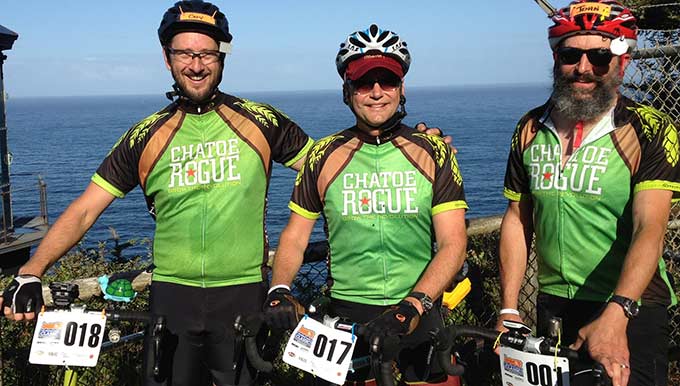 Cary Bryant and David Gremmels (Rogue Creamery) and John Maier (Rogue Ales' Brewmeister)
On the road to Newport, Oregon, at Meares Lighthouse. 83.6 miles and next stop -Yachats!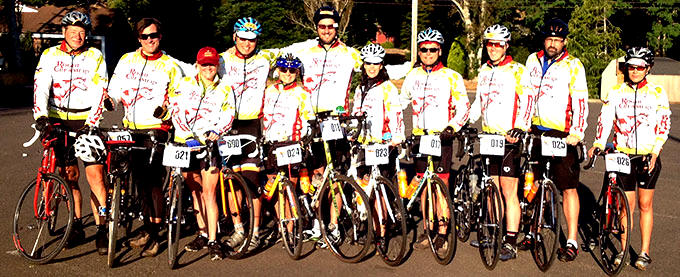 Team Nellie Green on the 2012 People's Coast Classic. Preparing to ride to Arizona Beach, looking ahead to the 7 Devils' climb