ROGUE RIVER BLUE AT 10 YEARS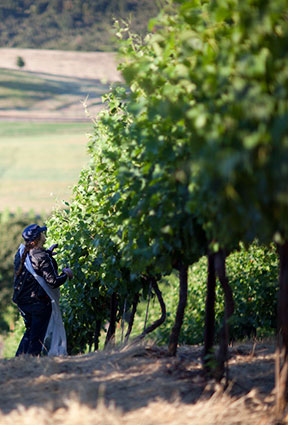 September marks the 10th Anniversary of Rogue River Blue, our flagship cheese developed in the months after David and Cary acquired the creamery. The vision: a seasonal, beautiful cheese infused with the unique character of southern Oregon. At the time, it was a unique, bold leap for American blues and the cheese that established Rogue Creamery on the national and international cheese scene.

To commemorate a decade of producing our rarest, most seasonal and most decorated blue, here's some thoughts on Rogue River Blue.
Creating Rogue River Blue

DG: From the start, this cheese was about representing and celebrating the region, a true taste of our unique terroir. We started with our Oregon Blue and then began layering flavors that would change and enhance it.

CB: We had a fabulous cheese that we decided to wrap in Syrah grape leaves soaked in Clear Creek Pear Brandy. It was a delicious cheese…and at the time, in 2003, people weren't ready to have interesting rinds. So we thought, let's package it pretty, make it taste even better.


Leaf Wrapping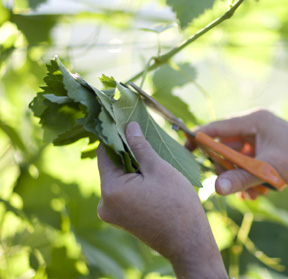 DG: I remember deciding whether we'd wrap it in grape leaves or not. I kept thinking, this hasn't been done, should we? It's really delicious without the leaves but the leaves bring such purpose. They protect that beautiful rind, deliver it in such a gorgeous presentation and elevate the flavor.


Using Syrah Grape Leaves

DG: The Syrah grape leaves have a particular flavor, the right amount of acid, and the right amount of fruit; pitch perfect with our cheese. I discovered this by driving around to different vineyards and tasting the leaves: I tried Chardonnay through Viognier and Malbec. The Syrah leaves just a few miles from Rogue Creamery at Carpenter Hill Vineyards were perfect.


Making Rogue River Blue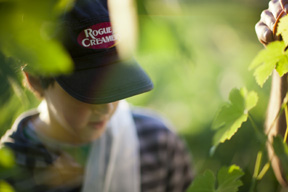 DG: We plan this cheese 18 months in advance. There's a lot of coordination with Carpenter Hill Vineyards and Clear Creek Distillery, the Portland company that makes the Pear Brandy. Bringing all those elements together, including the rinding of wheels in our cave, takes a lot of planning. There are so many parts that go into making this such a special cheese.


Teamwork

CB: I'm especially proud of any award won by Rogue River Blue because it's the one cheese that is made by our whole team. The cheesemakers start with it and there's a lot of effort with the affinage that brings in more people from our team.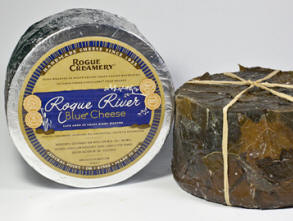 Packaging has a special place in it with the grape leaf wrapping. Everyone from the whole company is invited to help pick the grape leaves, so if you want to be a part of Rogue River Blue, you can. It feels really good to have that cheese be the one that wins because it's such a team cheese.

Rogue River Blue won the Best Blue Cheese in the World at the 2003 World Cheese Awards in London less than a year after David and Cary acquired the creamery. It is a two-time winner of Best in Show at the American Cheese Society (2009 and 2011).

The 2012 Rogue River Blue release began shipping on September 8, 2012. Order yours early to ensure availability - it's easy to order online at RogueCreamery.com