CELEBRATE THE EQUINOX WITH ROGUE RIVER BLUE
September 22, 2012 • Central Point, Or.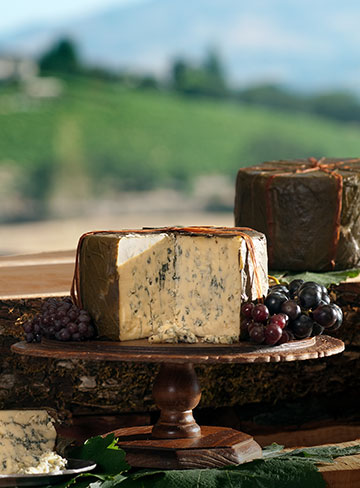 Here in Southern Oregon, and all over the world for that matter, Rogue River Blue lovers mark the Fall Equinox with the national release of Rogue River Blue. Beginning on Saturday, September 22, 2012, you'll be able to find this year's perfect Rogue River Blue in stores, restaurants and cheese shops all over the world.


Efnniht. Æquinoctium. Feast of Avalon. Cornicopia. Harvest Home. Autumnal or fall equinox. However you say it, whatever tradition you follow, it's a time of celebration. This year the fall equinox is on Saturday September 22, 2012. It's a magical, mystical date when night and day are exactly the same length. Legends claim that on this date, you can balance an egg on its end and satellite communications are disrupted.


Every day is the right day to enjoy this extraordinary blue, with hints of sweet pine, wild ripened berries, hazelnuts, morels and pears, but Rogue River Blue is especially fitting on September 22, at 7 a.m. or 7 p.m.


Greet the sun at daybreak with a simple plate of Rogue River Blue, fresh figs and local honey. And later, salute the deep purple gloaming of the setting sun with a cheese social, designed to sample all eight of Rogue Creamery's award-winning blues, Rogue River Blue among them. Then present your guests with a special harvest supper prepared with Oregon's bounty and showcasing Rogue River Blue, enrobed in deep green, brandy soaked Syrah leaves.


The fall equinox is a time to celebrate the end of summer and the local harvest. It's also the time when the Rogue Valley's grasses are most lush, and just right to make milk rich in butterfat. The cows on our farms become ripe with the most perfect milk of the season and Rogue Creamery begins to make a Rogue River Blue for the next year. Next week, we'll make the first of next year's Rogue River Blue - a cheesemake that is slow and special, with extra attention to timing and nuance. It's a time of celebration and promise, looking forward to a new year, a year of delicious Rogue River cheeses.


Rogue River Blue Autumnal Equinox Party

Rogue Creamery Rogue River Blue served with artisan bread and honey
Rogue Creamery Oregon Blue with fig and Prosciutto Wraps
Mini Herb Cakes with Fall King Salmon & Shredded TouVelle
Baked Potato, Leek and Smokey TouVelle Soup with Apple Smoked Bacon
Roasted Root Vegetables on a Rosemary Stick
Rogue Ale Hazelnut and Chocolate Stout Ales
Carpenter Hill 2009 Petite Syrah