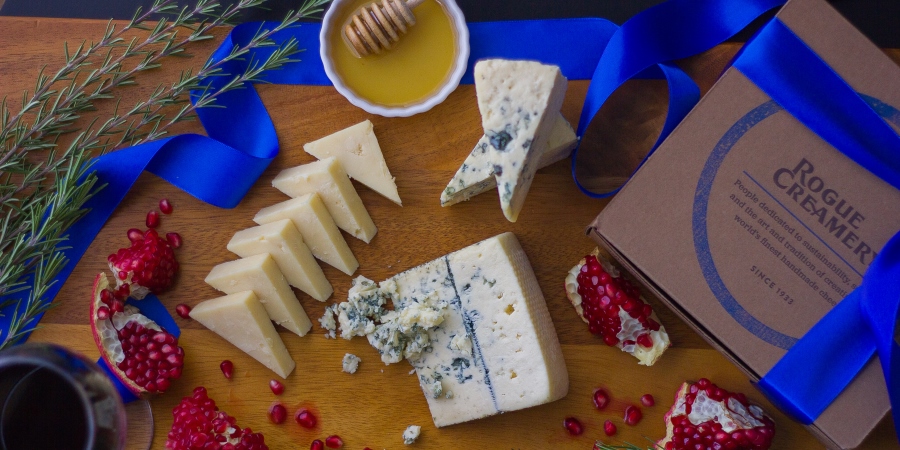 Corporate Giving with Rogue Creamery
Are you looking for a unique, artisan gift to share with your clients or team members? Consider a gift of gourmet cheese!
Rogue Creamery has a wide variety of gift boxes featuring our award-winning, 100% certified organic cheeses, along with our favorite accompaniments for the perfect cheese platter. Simply choose your gift and preferred delivery date and we will ship on your schedule. View our Gift Boxes >>
In addition, we are happy to work with you to customize a gift box to suit your needs. We can also deliver individual pieces of cheese for you to include in your own baskets, and if shipping direct works better, that's great too.
Contact us today at shipping@roguecreamery.com
to let us help you build your custom Corporate Gift Program today!
Three Popular Rogue Creamery Gift Options: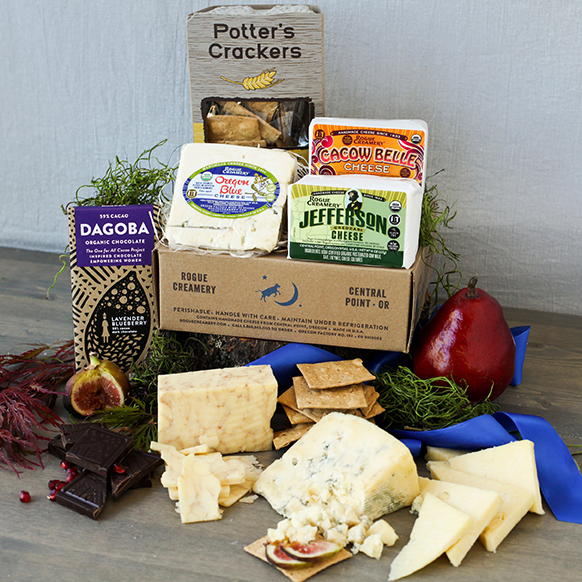 Everyday Delights - $59
What's Inside:
7 oz Organic Oregon Blue Cheese
8 oz Organic Jefferson Aged Cheddar
8 oz Organic Cacow Belle Spiced Cheddar
Dagoba Lavender-Blueberry Organic Chocolate
Organic Potter's Crackers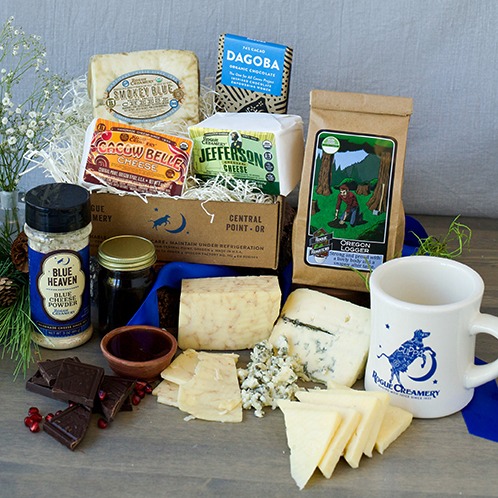 A Taste of the Rogue Valley - $89
What's Inside:
7 oz Organic Smokey Blue Cheese
8 oz Organic Jefferson Aged Cheddar
8 oz Organic Cacow Belle Spiced Cheddar
3.5 oz jar Blue Heaven Blue Cheese Powder
4 oz jar Honey
Dagoba Rich Dark Organic Chocolate
8 oz bag Rogue Roasters "Oregon Logger" Coffee
Rogue Creamery Mug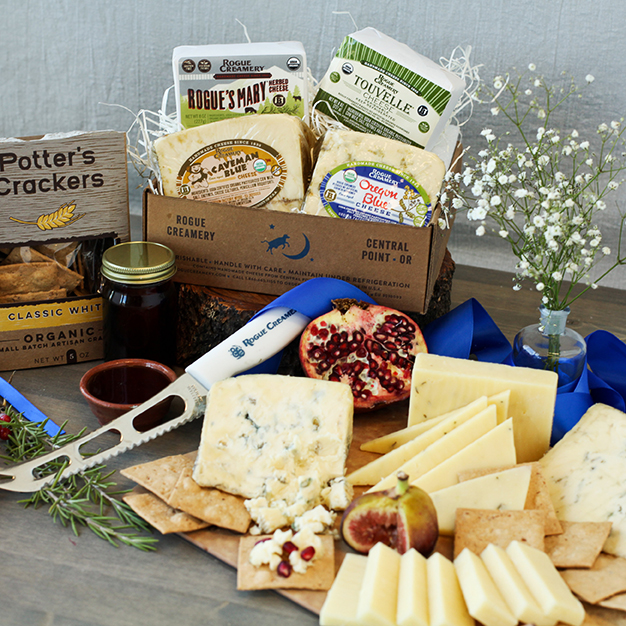 The Cheese Party - $99
What's Inside:
7 oz Organic Oregon Blue Cheese
7 oz Organic Caveman Blue Cheese
8 oz Organic Rogue's Mary Herbed Cheddar
8 oz Organic Touvelle Cheese
4 oz jar Honey
Organic Potter's Crackers
Rogue Creamery Cheese Knife
State of Oregon Cutting Board