THE ORIGINS OF CAVEMAN BLUE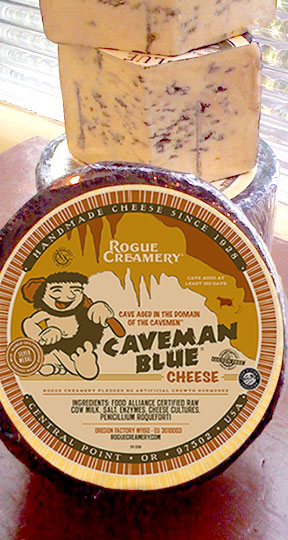 Our cheese spotlight shines on one of Rogue Creamery's most distinctive blue cheeses: Caveman. Rich, balanced and robust due to its surface ripening, Caveman Blue is a compelling addition to any cheese plate. Rogue Creamery first released Caveman Blue in 2008 after several years of research and tasting.

This blue spent the most time in development, literally taking years to perfect and replicate. When it was time to release, we knew the name had to measure up to the delicious result and to reflect some aspect of our local Southern Oregon landscape.

Grants Pass, a small town about 25 miles west of Central Point, is known as the Home of the Caveman. The town takes this designation so seriously that, in 1971, a 17-foot tall caveman statue was erected as a town sentinel and celebrating close proximity to Oregon Caves National Monument.

For years, Grants Pass was also the home of Rogue Gold Dairy, a sister company to Rogue Creamery, once owned by the Vella family. From the 1940's until its closure in the 90's, the dairy produced cottage cheese and served as a distributor for Rogue Creamery cheeses. Cheeses produced in Central Point would go to Grants Pass for packaging, processing and shipping.

Lead Cheesemaker Jason Garcia grew up in Grants Pass and has a special connection to Rogue Gold Dairy. "When I was growing up, I worked for my aunt who was a cheese distributor," says Jason. "My aunt rented cooler space from Rogue Gold and I would make deliveries for her when I was in high school. The tag line for the Rogue Gold products was 'Aged in the Domain of the Caveman.'"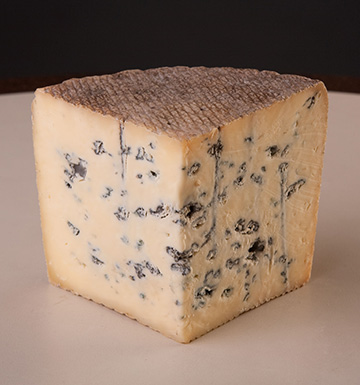 "Caveman is produced in the same room as rest of blues but the affinage, or aging, is quite different from our other blues," Jason notes. "It has exterior mold growth. Look at Caveman side-by-side with say our Oregon Blue, which is pristine. I think it has a rustic, caveman-like appearance."

Caveman even has its own, separate cave, now shared with our other exterior molded blue, Flora Nelle. "The exterior mold grows, and this growth generates more enzymatic activity, not just on the inside, but outside as well. These enzymes work to break down proteins and fats in the cheese and this breakdown is a big part of how certain flavors are generated. It's also why Caveman tastes so different from other blues."

Jason describes Caveman as "sweet, fruity with vanilla tones, and earthy notes. It's addictive," he says. "It's savory, with no tang at all, very smooth and mellow."

Explore our cheese of the month with this delicious, seasonal recipe Pear and Sage Flatbread with Caveman and TouVelle. Share your favorite way to enjoy Caveman on our Facebook or Twitter feed!



posted 2012October