TOM VAN VOORHEES RECEIVES THE AMERICAN CHEESE SOCIETY'S CERTIFIED CHEESE PROFESSIONAL CREDENTIAL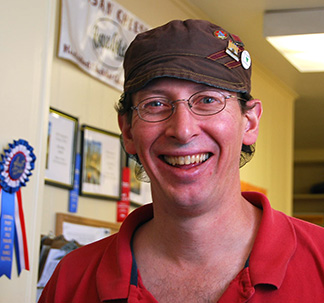 Rogue Creamery is proud to announce that employee Tom Van Voorhees is among the first class of American Cheese Society Certified Cheese Professionals™ (ACS CCPs™). Van Voorhees is part of an elite group of 121 individuals who passed the inaugural Certified Cheese Professional™ Exam, which was held on August 1 in Raleigh, N.C. This prestigious group consists of cheese professionals from across the United States and Canada and Van Voorhees is the only cheesemonger certified in the state of Oregon. For a full list of ACS CCPs™, please visit www.cheesesociety.org.
"I'm pleased to be part of the first ACS Certified Cheese Professional class," says Van Voorhees. "It elevates our industry by having a measuring stick for the cheese professional. It's comparable to a certified sommelier in the wine world." Van Voorhees manages Rogue Creamery's Cheese Shop in Central Point where he advises hundreds of customers on domestic and international artisan cheeses as well as pairings that complement and extend the unique flavors of the cheeses.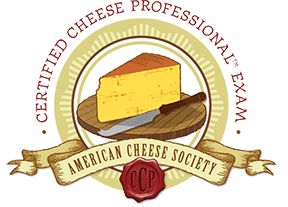 The Certified Cheese Professional Exam™ is the first exam of its kind. It was established by the American Cheese Society to encourage high standards of comprehensive cheese knowledge and service for professionals in all areas of the industry. The exam was developed over an eight-year period with more than 100 industry experts working together with credential consultants Knapp International and software provider ExamSoft. The exam is based on the knowledge and skills required to successfully perform cheese-related tasks in jobs across the industry. Testing encompasses a broad range of topics including raw ingredients, the cheesemaking process, storing and handling cheese, selecting distributors, marketing and communicating about cheese, nutrition, and regulations and sanitation. Recertification is required every three years.





"I applaud the efforts of all those who displayed their cheese industry knowledge by passing this exam," says Nora Weiser, ACS Executive Director. "The expertise of ACS CCPs™ not only elevates the industry, but also designates for consumers that a highly skilled and reliable cheese resource is available to them."





To learn more about the Certified Cheese Professional Exam, visit www.cheesesociety.org.



posted 2012Sept