Biscuit Bliss in Portland, Oregon and Medford


We love to see the inventive and tasty ways Rogue Creamery cheeses are showing up on local menus and love it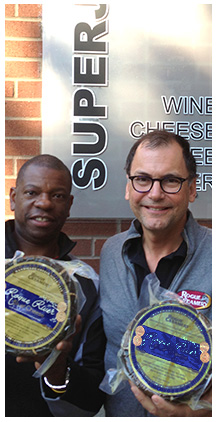 when chefs share their latest creations with us. Biscuits, it turns out, are all the rage this season!

At Portland-based Superjet and at Buttercloud, a year-old Medford breakfast and lunch stop, our TouVelle is an ideal addition to their light, fluffy, buttery biscuit creations.

Superjet
Located in the urbane Pearl District on Jamieson Park, Superjet makes a daily transformation, converting from a cozy, neighborhood coffeehouse serving breakfast and lunch by day and shifting into a sophisticated wine and cheese bar by night.

The restaurant is co-owned by Andy Diaz of Blackbird Wine and Atomic Cheese and Chef Rodney Woodley, a Culinary Institute of America trained chef who worked at restaurants around the world and served as Executive Chef at the Washington Post before moving to Portland.

"Superjet is the epicenter, where food, wine, beer and cheese collide," says Rodney, "and there's great coffee and breakfast too. We have it all."

"We use TouVelle exclusively as our house cheddar," says Rodney. "We mix Touvelle into our egg and cream mix and bake it into our frittata. I love the richness of the TouVelle and the flavor it imparts. It's our signature dish."

Two types of biscuits, a sweet version and a pepper version, are made fresh each morning and served with honey butter or homemade jam and used in sandwiches. The Cheese and Egg Biscuit sandwich, which features the frittata and more TouVelle, is one of the popular menu items.

Want to make the sandwich at home? Chef Rodney shares his recipe for his signature biscuits and for his TouVelle Cheese and Egg Biscuit here, the Superjet Frittata TouVelle Biscuit.

Buttercloud
Buttercloud Bakery & Café, located just a few miles from Rogue Creamery, is an artisan bakery specializing in biscuits and other delicious baked goods. Their breakfast and lunch menu features local ingredients piled high on their signature biscuits, the recipe that started it all!

Ellen and Gibson Holub are the dynamic duo behind Buttercloud. After living in Seattle for 16 years, the couple regularly drove through the Rogue Valley on the way to visit family in the Bay Area.

"We loved the area, the weather and the local food community," says Gibson. "We had a business plan and knew we wanted to relocate. This area was perfect for us. " Ellen, a trained pastry chef and a big time home cook, was on a mission, says Gibson. "We love Southern food and Ellen wanted to create the perfect biscuit, experimenting with many different variations. One day, she presented a fresh biscuit and it was like eating a cloud of butter." It was so good, in fact, the couple named their restaurant after it.

"We use TouVelle in a number of things, on our biscuit sandwiches, in our Smokey Mac & cheese," he says. "We use Smokey Blue on the Beef and Blue. It's great."

The restaurant has quickly become a destination for the local community, including many Rogue Creamery team members. Craig Nelson, Lead Cheesemaker and Plant Manager, is such a Buttercloud fan that he even has an unofficial sandwich named after him.

"The Craig" is not listed on the board, but those in the know can request this special treat which is the popular Rogue Scramble with Rosemary TouVelle on top of a fluffy biscuit with added bacon. What's not to love?

Are you a chef who loves to use Rogue Creamery cheese on your menu? Let us know on our Facebook or Twitter feed and you may be featured in a future Chef Spotlight!