Superjet TouVelle Frittata Biscuit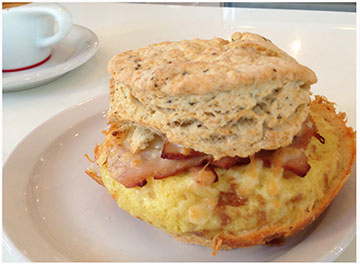 Chef Rodney Woodley serves up his momma's biscuits and a signature TouVelle Frittata at his Portland, Oregon restaurant in the upscale Pearl District. Two types of biscuits, a sweet version and a pepper version, are made fresh each morning and served with honey butter or homemade jam and used in sandwiches.
The Superjet TouVelle Frittata Biscuit sandwich, which features the frittata and more TouVelle, is one of the most popular menu items. Want to make the sandwich at home? Chef Woodley shares his recipe here. First make the biscuits, then the frittata, and put it all together for a fabulous breakfast or brunch menu.
Superjet Sweet or Peppered Biscuits
Ingredients
3c flour
3 tbls. baking powder
3/4c sugar (for sweet biscuits)
Pinch salt
8 oz. Rogue Gold Butter, chilled and cubed
8 oz. water
1 tbls. vanilla (for sweet biscuits)
1 tbls. pepper (for pepper biscuits)



Preparation
Preheat oven to 350º F.
Mix together all of the dry ingredients.
Leave out the sugar if making pepper biscuits.
Add pepper to the dry ingredients if making pepper biscuits.
Add vanilla to the water if making sweet biscuits.
Cut butter into flour, sugar, baking powder and salt mixture.
Make a well in the center and add water/vanilla.
Mix ingredients together to form the dough. Do not over-mix!
Cut into biscuits and bake at 350 for 20 minutes.
Superjet TouVelle
Ingredients
12 eggs
½ cup heavy cream
2 teas. salt
Original TouVelle


Preparation
Preheat oven to 425 degrees.
Mix together eggs, heavy cream and salt.
Spray with olive oil or butter 6 standard-sized 2"x3" ramekins.
Ladle egg mixture into the ramekins.
Mixture should be no more than ¾ up to the top.
Top the eggs with enough TouVelle cheese to cover the surface of the eggs.
Bake the frittatas in a 425 degree oven for 10-12 minutes or until centers are cooked through.
Cheese should be melted and brown, and eggs should be cooked through.
Insert a toothpick or paring knife to ensure doneness. The toothpick/knife should come out clean.
Serve with Chef Rodney's tasty biscuits (recipe above), or with toast, muffins or bagels.