Oregon Blue and Rosemary TouVelle Souffle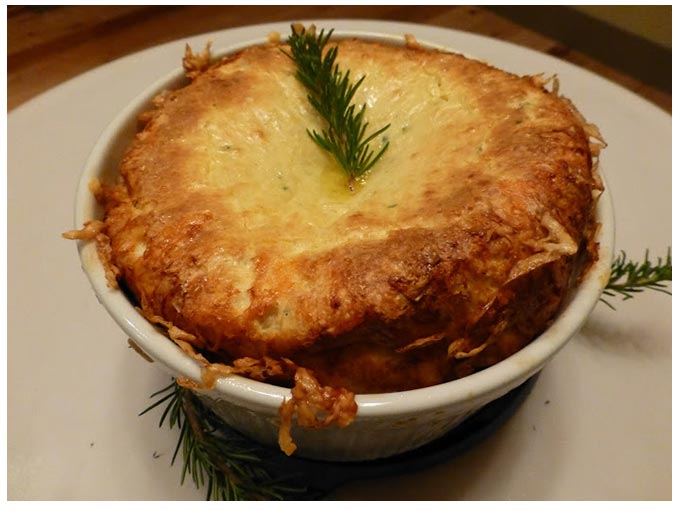 Cary and David's friend Donnal Mixon of Madrone Mountain Winery gifted them a souffle made with Rogue Creamery's classic signature Oregon Blue Cheese. With Don's help they modified the recipe to include a seasonal flavor by including our Rosemary TouVelle.
Ingredients
1/3 c. white or brown rice flour (white flour works as well)
1/3 c. unsalted butter
2 c. half and half or whole milk
1/2 tsp. salt or to taste
1/2 tsp. black pepper
2 oz. Rosemary TouVelle
1/3 tsp. nutmeg, freshly ground
3.5 oz Oregon Blue, crumbled
6 eggs, beaten with a fork or whisk
1/2 tsp. cayenne pepper
1/2 c. green onions or scallions, minced
Preparation
Butter thoroughly the inside of a 7" souffle dish with 1 tbsp. butter, then coat with 1/4 c. (about 2 oz.) finely grated Rosemary TouVelle. Place souffle dish in refrigerator.
Preheat oven to 450o (or 425o if using a convection oven).
Make a bechamel by melting 1/3 c. butter in saucepan. Stir in rice flour over medium heat for a few minutes. Add half and half all at once and whisk uniformly until there are no lumps. Stir until sauce thickens and then for a few more minutes. Add salt, pepper and nutmeg. Set aside and let cool.
In a separate bowl beat eggs into a froth, add cayenne and green onions and set aside.
When the bechamel has cooled a bit, add crumbled Oregon Blue cheese and stir until cheese is evenly distributed. Add egg mixture and stir, incorporating evenly. Pour mixture into chilled souffle dish in preheated oven. Reduce heat to 350o (or 325o if using a convection oven). Bake 45 minutes or more until center is set. Place the souffle dish on a trivet with rosemary to enhance the experience.
Enjoy and happy holidays!
This recipe graced Rogue Creamery's 2012 Holiday Greeting card. posted 2012Dec