Rogue Creamery Cheese Honored as
One of Top 16 in the World

Rogue Creamery's Rogue River Blue was named one of the top sixteen cheeses in the world at the 2012 World Cheese Awards in Birmingham, England, winning a Super Gold medal as one of the top fifty-five cheeses; it was also named Best American Cheese. The creamery also won a second gold in the same class with Flora Nelle their organic naturally rinded blue cheese. Their third success was Echo Mountain Blue which won a Bronze award in the Mixed Milk Class. The World Cheese Awards, run by the UK's Guild of Fine Food, is the largest and most respected competition of its type in the world. There were 255 judges who gathered to taste and score cheeses from 30 different countries last week.

"It was truly exhilarating to watch Rogue River Blue be judged amongst 2,781 cheeses when it moved to the Super Gold class with fifty-five cheeses and then the final round of sixteen," said David Gremmels, Co-owner and Cheesemaker along with Cary Bryant. It was championed on a panel of sixteen super judges from around the world by Will Studd, Global Cheese Ambassador and Filmmaker. He spoke passionately about its original and regional flavors of milk, cream, fresh grass and sweet blue." It is complex, exhibits exceptional depth of flavor and is truly regional," said Studd."

"I was very proud of our team members and dairy, and also credit our friends at Carpenter Hill Vineyard and Clear Creek Distillery for their contribution to its regional flavor," said Gremmels.

Rogue River Blue
Rogue River Blue won Best Blue Cheese at the London World Cheese Awards in 2003 and is a two time winner, 2009 and 2011, of the Best of Show Award at the American Cheese Society Competition & Judging.

Rogue River Blue is produced at the turn of the season, made with late-season milk produced after the autumnal equinox. At this time, the cows graze on grasses renewed by cooler temperatures and make milk that is richer and higher in butterfat due to the advanced stage of the lactation cycle. It is this special milk, reflective of the unique seasonal influences of the Rogue River Valley, which is the very essence of terroir. This is the French concept that well-crafted foods represent a certain special essence of a region: the soil, the climate and the interaction of herd and pasture.

Flora Nelle Blue
This is the 3rd Gold award for Flora Nelle in the last 2 years. It also received a Gold sofi award last June at the 2012 Fancy Food Show in Washington, D.C. in the USDA-Certified Organic Product Class and Gold @ the 2011 World Cheese Awards in London for Best New Blue Cheese. Flora Nelle is the only blue at Rogue Creamery made with pasteurized cow's milk. This cheese was created to support the Australian market. It has a distinct appearance with many veins of blue mold that are encouraged to develop throughout the paste. The result is a robust and piquant blue with subtle hints of blueberry and a crumbly but creamy texture. Great accompaniments include port-soaked figs, sweet Sauterne or PX Sherry, salads with toasted pecans or pizza with Coppa and caramelized onions.

Flora Nelle is a naturally rinded pasteurized blue set with calf rennet. The paste is specked with beautiful blue blooms and blue green veins and creates savory, tropical & sweet cream flavors. The dusty rind enhances the spicy, nutty and intensely blue flavors framing the Rogue Valley Terroir.

Echo Mountain Blue
In the last six years, Echo Mountain Blue has won thirteen national and international awards; it has a montage of rich flavors made from a blend of sustainable raw cow and goat's milk. The flavor is clear, crisp, brilliant and complex in its subtle hint of goat's milk. Brightly hued veins traverse the body of this cheese, infusing it with a bold, earthy flavor. This unique blue cheese has a semi-soft texture with a silky smooth mouth feel & a tangy finish. The goats graze seasonally along the banks of the Rogue River next to our cow dairy sharing the same terroir of rich grasses and clover. Their feed and pasturing are designed to balance the goat's diet and milk to provide the "Flavor of the Rogue". The specially designed dairy with unique milking practices and high quality standards is indicative of its flavor, texture and award winning style.


For an inside look at the tensions and excitement of Rogue River Blue's judging at the 2012 World Cheese Awards, visit our Facebook page for the minute by minute rundown, texted by David Gremmels in Birmingham, England, to the Rogue Creamery Team in Central Point, Oregon. Oh my!

Cheese receiving and staging tables at the 2012 World Cheese Awards in Birmingham, England

Rogue River Blue wins the SuperGold at the 2012 World Cheese Awards in Birmingham, England

Rogue River Blue in the running for Supreme Cheese at the 2012 World Cheese Awards in Birmingham, England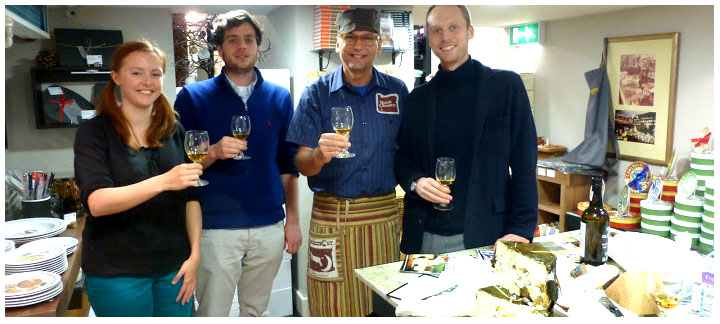 Its over! Time to breathe at the end of the 2012 World Cheese Awards in Birmingham, England