How to Build a Cheese Board like the Pros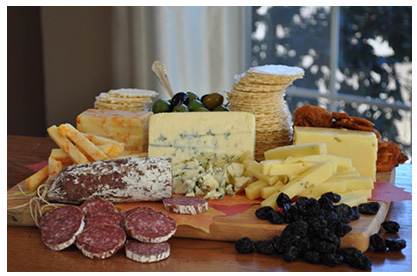 An inspired cheese board takes care of appetizers, lunch, dinner, or dessert depending on the occasion.

Cheese, meat, fruit, nuts, sweet things, and bread or crackers are all you need. Knowing your guests' preferences gives you an advantage but it is easy to make a great presentation for total strangers.
Careful selection and variety allow for great cheese boards on any budget.
Things to Consider Before you Shop:
What is the purpose? Are you presenting a focused tasting, appetizers, one part of a bigger spread, a little something after dinner? This will determine how much of each cheese you'll need.
Focused tasting or the only appetizer: 1oz of each cheese per person
Part of a larger spread or after dinner: 1oz total cheese per person
Showcase a variety of cheeses: Whether you're serving 3 different cheeses or two dozen, it's a good idea to offer a mix of the many textures and flavors available. In most situations 3, 5, or 7 cheeses will do.
Milk types - cow, sheep, goat, water buffalo
Textures - soft and gooshy, semi-firm and pliable, firm and crumbly, really hard
Intensity of flavor - mild and creamy, sweet and fruity, nutty, earthy, funky, stinky, blue
A good cheese shop will carry a balanced selection and let you taste before you buy.
Are there any restrictions? Can you find out if you'll be accomodating allergies, vegetarians, gluten-free guests? The more you know the better you can prepare.
Accompaniments:
Fruits and Nuts - Nothing wrong with grapes but don't stop there.Fresh fruit (in-season) is best, dried fruit is wonderful too (figs, apricots, cranberries), pickles are nice and don't forget the olives! Cheese loves nuts, too.
Cured/ Smoked Meats - Salami is nice but explore pates, mousses, and terrines as well as smoked fish.
Jams/ Chutneys/ Honey/ Chocolate - Here's where we counteract all the saltiness on the table. Savory, spicy chutneys, jams, and preserves are great; serve in ramikins (with a little spoon) near the cheese you think pairs best with it. Honey goes really well with blue cheese and, if you can find it, a section of honeycomb is dramatic.Dark chocolate is another great thing to offer.
Bread and Crackers - Slice a baguette because, well, just becasue, and see what else your bakery has that's rustic and crusty. Offer a variety of crackers made from wheat, rice, corn, oats, etc. There are thick ones and thin ones sweet ones and salty ones and you don't have to worry nearly as much about leftover crackers
Presentation:
Make it manageable: Pre-cut or crumble harder cheeses (triangles, slices, and sticks are more interesting than cubes); serve soft cheeses whole with a knife or spreader nearby. Allow some room between each cheese; you will fill in the gaps later with accompaniments. Think from the guest's point of view. Will serving yourself be easy or awkward? Don't feel that everything has to fit on one board, you can group similar things together and make two or three themed boards.
Fill in the gaps: Little dishes of nuts, olives, jams, honey, etc go on next; place them near the cheese you think goes best with them. Fill in the remaining empty space with rolled up prosciuto slices, pieces of dark chocolate, fresh and dried fruit, or a slab of honeycomb. Olives and nuts can be sprinkled in the gaps as well. Mix up colors to avoid a monotone board.
Put out plenty of tools: Each cheese should have its own serving tool (knife, spreader, pick, or tong). Make sure guests can serve themselves without using their hands.
Sign it up!: People want to know what all this stuff is, especially if you've found some new and unusual cheeses and accompaniments. There are many ways to do this. Slate boards are popular because you can write on them. Cheese markers can be bought or made at home. One trick is to cut out the logo or name from the cheese label and attach it to a toothpick and stick that in the cheese. You can also make little signs to go near the cheese on the table rather than on the board itself.
Extra Credit (Big Cheese):
Plating for larger scale events takes a little more planning. Sometimes you have a large number of people at once and other times you may want to provide cheese boards for an event that lasts a long time. Here are some ideas to make that simple without compromising the qualiy of the cheese or the presentation you created.
Open houses, receptions, etc: Some events last for hours and there will be guests coming and going on their own schedule. Prepare for this by buying two or three pieces of each cheese. Present one at the beginning and keep an eye on things as time passes. If one cheese is more popular, you'll be ready to replenish just that one cheese without starting from scratch.
Big bashes: When you're expecting more people than can comfortably approach the cheese board without forming a line then consider making three or more versions of exactly the same cheese board and put them in different parts of the room. This will allow minglers to discover the cheese at their leisure.
You may also consider large format cheeses. Some cheeses come it 5-10lb formats. You can create quite and impression with one or two big cheeses. A wheel of Rogue River Blue is always a stunning one-cheese cheese board.
Leftovers:
Even the best preparation isn't always perfect. What if you guessed wrong and have more cheese than you expected? Please dont freeze it! Wrap it carefully and refrigerate it; in most cases you can keep it for a week or two at least. You may also cosider these options:
Door prizes: If you noticed a guest or two who were particularly fond of a cheese, send some home with them.
Fondue or Mac and Cheese: There are more dishes like these that are cheese based and become more interesting when you switch up the cheese ingredients. Surprising and very hard to go wrong.
Another cheese party: It's never been our experience that friends and neighbors have declined our invitations to "help us eat all this cheese!!"