Smokey Blue and Spaghetti Squash with Garlic and Bacon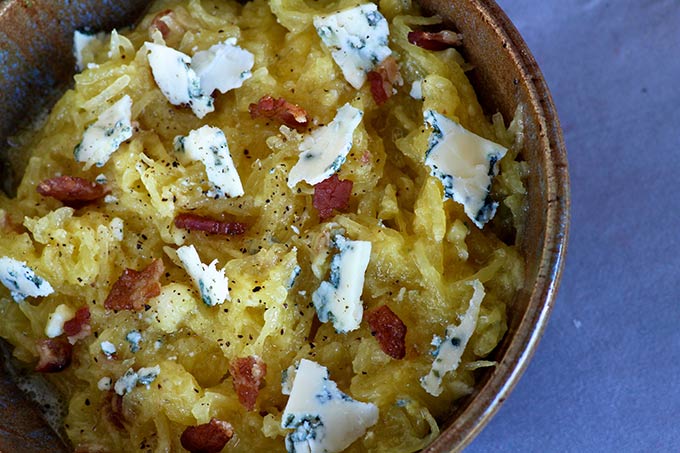 Looking for a luscious seasonal main dish that satisfies taste and supports your New Year's diet resolutions? Here's a simple midweek meal that features tasty and colorful spaghetti squash, flavored with a hint of bacon and finished with a generous crumble of Smokey Blue. Serves 4.

Ingredients
1 large Spaghetti Squash (about 4 pounds)
4 slices of thick cut bacon
3 tbsp. olive oil, melted butter or bacon drippings
2 cloves of garlic, minced
1 tsp. lemon juice
¼ c. parsley, plus more for garnish
Salt and fresh black pepper, to taste
3.5 oz. Smokey Blue, crumbled or sliced*

Preparation
Preheat oven to 400 degrees. Slice squash in half horizontally and scrape seeds from inside cavity with a spoon. Place squash face down in a large baking pan. Add ½ c. water to the pan and cover with foil. Cook for 25 - 30 minutes, until squash can be easily pierced with a fork. Remove from oven and allow to cool slightly.

Meanwhile, cook bacon until crisp. Drain and crumble or roughly chop. Set aside. Heat oil, butter or bacon drippings over medium heat. Sautee garlic until fragrant. Remove from heat.

Scrape the interior of the squash gently with a fork to form long strands. In a large bowl, toss squash, garlic infused oil, lemon juice and parsley. Add bacon pieces and Smokey Blue cheese (reserving some for garnish), tossing gently until just combined.

Serve immediately topped with parsley sprig, a few crumbles of Smokey Blue and fresh pepper.

*Cheese Tip: To slice blue cheese, begin with cold cheese, just out of the fridge. Use a sharp paring knife and run it under cold running water between slices to prevent cheese sticking to the knife. Gently pry the cheese from the knife and set aside.
posted 2012 December