Rogue Creamery Ranks in Top Ten of 2013 100 Best Green Companies List from Oregon Business Magazine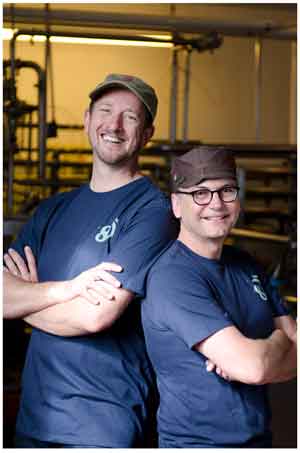 Oregon Business Magazine announced their list of the 100 Best Green Companies to Work For in Oregon today, and Rogue Creamery is ranked #10. This is the fourth consecutive year that Rogue Creamery has been ranked as one of Oregon's 100 Best Green Companies.

Rogue Creamery recently received the SBA Director's Impact Award for innovation and leadership on May 20th. Co-owner David Gremmels currently serves on Governor Kitzhaber's Oregon Sustainability Board and the Creamery won the 2007 Governor's Sustainability Tourism Award for its commitment to community and agri-tourism.

The 100 Best Green Companies list is distinctive in its qualifying factors. The winners are not picked by the magazine or other outside influences. Instead they are selected by the very people who work within the 431 companies who participated. Employees and employers alike are asked to rate their satisfaction and importance in 15 statements related to sustainable practices. Over 20,000 employees took part in anonymous surveys for the search to identify the companies that approach their daily work with green values. The green companies on the list come from every sector in the state including: landscapers, hotels, nonprofits, and food and beverage. Find more information at:
http:///www.oregon100best.com/events/green-event/

"Sustainability is part of the culture at Rogue Creamery. It has been for 80 years. Rogue Creamery is a small company striving to be a big example of a socially, environmentally and economically sustainable business. We are doing business simply and purely in a supportive community filled with Blue Cheeselovers," says David Gremmels, President and Cheesemaker at Rogue Creamery.

Today, R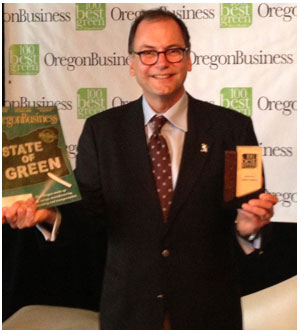 ogue Creamery offsets about fifty percent of its electrical use with its own photovoltaic system and 35% of its team members commute to work via alternative methods saving an average of 12,000 gallons of gas per year. In addition, they have challenged other businesses leaders to offer the same program to incentivize their teams. Rogue Federal Credit Union is a great example of a business incorporating a hybrid of Rogue Creamery's Nellie Green Program. They have put nearly 50 of their team members in the saddle commuting to work daily. All totaled they have supported nearly 85 bikes on the road.

"At Rogue Creamery, everything we do is in connection with the environment. Landscape, atmosphere, community, animal husbandry, ingredients, practices and processes must be supported by three key words; Safe, Healthy and Optimistic. These are the three words Rogue Creamery has used for eight decades," says David Gremmels.

Rogue Creamery's green program is called Nellie Green, and involves solar energy, recycling, waste reduction, purchasing, commuting, asset management, manufacturing processes and financing. Team members are incentivized to car-pool, walk, use public transportation or to commute by bike or via electric or hybrid cars to help Rogue Creamery meet its sustainable metrics. "It is an incentive for us to work with local suppliers and bank locally thus multiplying the value of our dollars and their contribution in our community," says Gremmels.

Sustainability is incorporated into every facet of Rogue Creamery's business practices including planning, forecasting, budgeting, vendor selection and logistics through its flexible distribution network. The Creamery invites and includes other makers to participate in its shipping network to reduce carbon and costs. Rogue Creamery takes a further step and is third party certified by Food Alliance for its sustainable practices, food safety standards and purity of products.

About Rogue Creamery - Rogue Creamery's international award winning handmade cheese is produced from sustainable and organic certified raw milk and made using old world sustainable practices. Sustainable agriculture integrates three main goals — environmental health, animal welfare, and social and economic equity. Rogue Creamery ensures a consistently delicious and healthful experience through its commitment to sustainable, organic and food safety processes which are third party certified. Its dairy and cheesemaking processes are certified sustainable by Food Alliance, cheesemaking and ingredients organic by Oregon Tilth and food safety procedures and HACCP's by Steritech.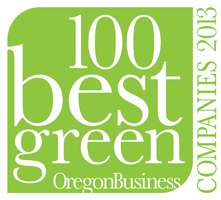 Here are the questions that OregonBusiness asks of respondents to determine their Top 100 Green Companies to Work For: Employee ratings on satisfaction with and importance of sustainable practices for 10 survey statements count for 2/3 of each workplace's overall green score while 15 sustainable practice questions answered by the employer count for the remaining 1/3 out of 300 possible points.
GREEN EMPLOYEE SURVEY QUESTIONS

Foreach statement below, employees rate:
• Satisfaction with the performance of their company/organization in that area.
• How important that particular item is to their overall satisfaction.

1. Sustainability as part of the company/organization's mission
2. Rewards and recognition of employee efforts toward sustainability goals
3. Measurement of progress toward sustainability and sharing of results
4. Workplace recycling of paper, glass, metals, packaging and other materials
5. Conservation of water, such as low-flow plumbing fixtures and native-plant landscaping
6. Waste reduction, such as composting, reuse of materials, and minimal packaging
7. Efforts to use use non-toxic, natural materials
8. Support for travel alternatives such as public transit, carpools, telecommuting, walking and bicycling
9. Workplace practice of energy conservation, such as turning off unused equipment and use of compact- fluorescent/LED bulbs and high efficiency appliances
10. Company/organization's practice of buying local for materials, food, etc.

GREEN EMPLOYER SURVEY QUESTIONS
Please indicate to what degree your company/organization's Oregon sites support and promote the following sustainable practices: (No, not at this time / Under consideration / In process / partially done / Yes, fully implemented)

1. Comprehensive sustainability policy with statement of clear goals
2. Measurement of sustainability progress and sharing results internally and externally
3. Employee rewards and recognition for efforts toward sustainability goals
4. Recycling of paper, glass, metals, packaging and other materials
5. Water conservation, such as low-flow plumbing and native-plant landscaping
6. Waste reduction, such as composting, reuse of materials, and minimal packaging
7. Use of non-toxic and natural materials in products, services and in the workplace
8. Sustainable purchasing, such as renting/borrowing instead of owning and selecting products with less environmental impact
9. Alternatives to single-occupancy-vehicle commuting, such as public transit passes, carpools, telecommuting, walking and/or bicycling
10. Purchases or directly utilizes renewable power and/or carbon offsets
11. Energy efficiency and conservation, such as turning off unused equipment and using compact- fluorescent/LED bulbs and high efficiency appliances
12. Sustainable facilities, such as LEED-certified buildings, weatherizing, remodeling with recycled/green materials, installation of solar panels, use of eco-roofs, etc.
13. Environmental stewardship, such as re-planting trees, restoring natural habitat, cleaning up pollution or supporting environmental organizations
14. Buying local materials, supplies, services, etc.
15. Use of supply chain vendors and service providers who practice sustainability

posted May 29 2013