Smokey Blue Deviled Eggs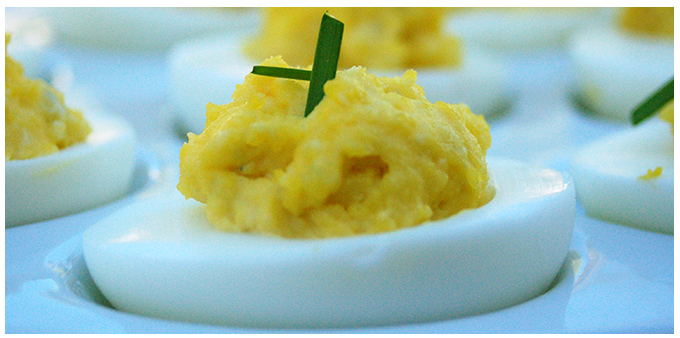 An updated take on perennial picnic fare – these tasty deviled eggs are rich, satisfying and completely grown up with the addition of our Smoky Blue cheese, smoked over Oregon hazelnut shells. So good, you may want to double the recipe! Serves 8-10.
Ingredients
10 hard boiled eggs, peeled and halved
3 oz. Smokey Blue Cheese
4 tbsp. mayonnaise
2 tbsp. crème fraiche
Parsley, Cracked Black Pepper, Chives or Paprika for garnish
Preparation
Cut hard boiled eggs in half lengthwise. Remove yolks and refrigerate whites aside for later use.

Press egg yolks and Smokey Blue through a food mill or strainer using a large, sturdy spoon. This process ensures velvety smooth texture. In a large bowl, combine, egg, cheese, mayonnaise and crème fraiche. Stir to combine.

Fill egg whites with about 1 tbsp. of egg and cheese mixture. Make it fancy by using a piping tool. May make ahead and cover in an airtight container for up to 4 hours

Just prior to serving, top with chopped parsley, cracked black pepper, chopped chives or paprika to taste.
posted 2013 June