Smokey Blue Bison Burgers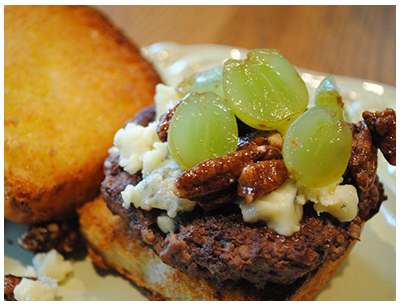 Not your everyday cookout fare, Smokey Blue Bison Burgers will delight and amaze your guests. Bison is a lean meat, and so this recipe uses Smokey Blue to moisten the patties, and add a bright blue flavor, accelerated with a true Oregon smoke. The recipe below is for one quarter pound burger, so multiply the ingredients based on the number you'd like to prepare.
Ingredients
1/4 pound ground Bison, seasoned with salt and pepper to taste
1 small dinner roll, sliced in half
1 clove garlic, for rubbing
Drizzle of olive oil
4 ounces Rogue Creamery Smokey Blue, crumbled
5-6 green grapes, sliced
4-5 candied pecans

Preparation
Lightly form ground Bison into thick patties, mixing in half of the Smokey Blue.Season with salt and pepper.

Grill approximately 4 minutes per side until internal temperature reaches 155 degrees or just barely pink. Meanwhile lightly toast the split rolls.

To assemble, rub the raw garlic clove on the toasted rolls on both sides then drizzle with olive oil. Place burgers on buns, followed by the remaining ingredients.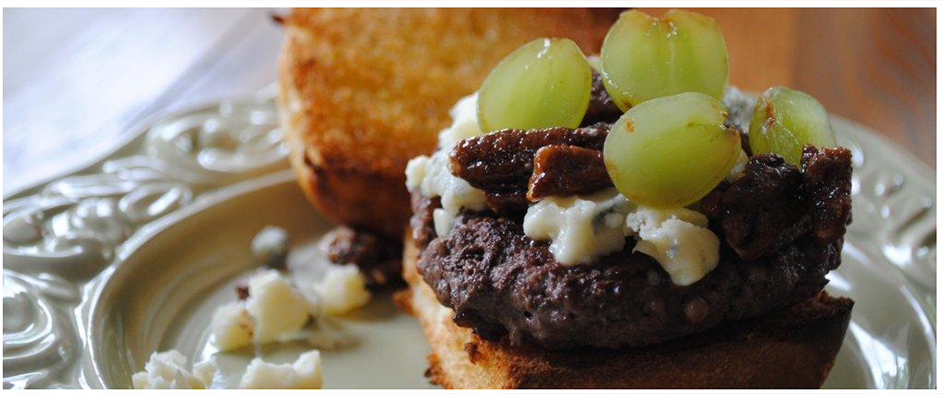 posted 2013 June