Smokey Blue Acorn Squash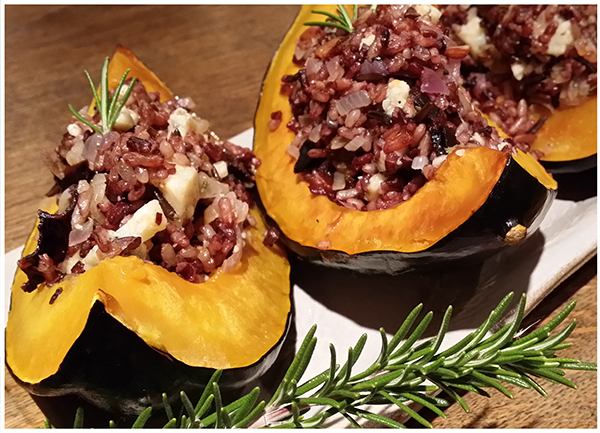 This Smokey Blue Acorn Squash dish is a favorite side on David and Cary's Thanksgiving dinner table. It works with the traditional turkey, ham or roasts and can be the center of the plate for the vegetarians at your table. Smokey Blue Cheese is a favorite of our vegetarian friends as it has the savory, smoky, caramel sweet flavor notes similar to bacon. These flavors are naturally created when the Oregon Blue wheels are cold smoked over hazelnut shells. The process is pure and magical.
We hope you enjoy this dish with your Thanksgiving feast.
Ingredients
One medium-size acorn squash, quartered
1 c. wild rice
3.5 oz Smokey Blue, crumbled
1 tbls. butter
1/2 teas. rosemary, finely chopped
1 shallot, coarsely chopped
1/2 c. white onion, coarsely chopped
1/2 c. red onion, coarsely chopped
1 tbls. olive oil
1/2 teas. freshly ground pepper
Salt to taste
4 strips uncured lean bacon
1/2 c. maple syrup

Preparation
Halve and then quarter squash, scoop out seeds and rub cut sides with olive oil. Brush maple syrup on 4 strips of bacon. Line baking sheet with foil and place quarters together facing cut side down. Place 4" width baking parchment on end of baking sheet for bacon.

Preheat oven to 375° - then bake squash and bacon together. Periodically check the bacon; it will brown and crisp in about 25 minutes. Remove from baking sheet when it looks crisp as the bacon will continue to cook as it cools. When cool, chop and set aside.

Cook squash for approximately 50 minutes to hour. Check tenderness by piercing with fork. Pull from oven and cool to touch.

Cook rice in rice cooker – 2 cups water to 1 cup rice.

Heat the olive oil in an 8" nonstick fry pan at medium heat. Add coarsely chopped shallot, white and red onion and stir frequently cooking until just turning brown then set aside. When rice is cooked and still warm fold in the butter, pepper, rosemary, salt and browned onions/shallots. Evenly distribute crumbled Smokey Blue into the mixture. Add the cured bacon to the rice or omit to create a vegetarian option. Form rice into football shapes and place into Squash quarters and position on serving platter. Garnish with rosemary sprigs for a nice touch.

Please let us know if you have any questions on this recipe.

Serves 4.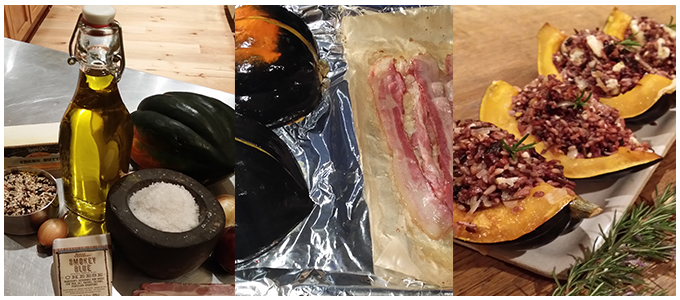 posted 2013 November