Rogue Creamery Registers as One of Oregon's First Benefit Companies
Listen in to Oregon Public Broadcasting's January 7, 2014 Think Out Loud Program, "Benefit Programs Aim to Balance Profit With Public Good".
On January 2, 2014, Rogue Creamery registered as one of the first Oregon Benefit Companies with Secretary of State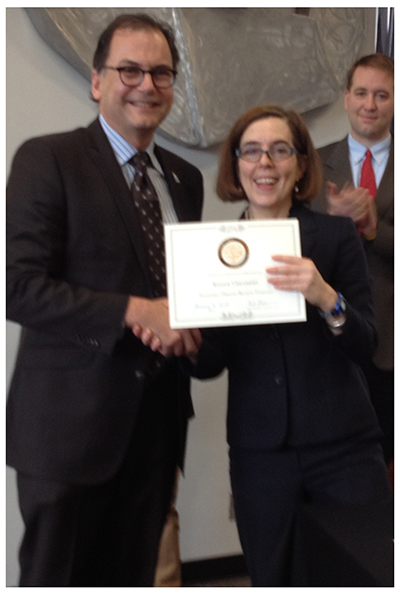 Kate Brown at the State Offices in Portland on the first day that a new state law allowed businesses to build social responsibility into their bylaws. "The overwhelming response to this new law demonstrates the vibrancy of Oregon's innovative, socially responsible business community. Benefit companies make a big difference in the community, creating jobs and acting socially responsible," said Secretary of State Kate Brown.

David Gremmels, Rogue Creamery Co-owner and President says, "I am providing more detail that under B Company registration Rogue Creamery will build upon its work in our community to:
1) further awareness of Oregon dairy and American farmstead and artisan cheese makers,
2) sponsor and support independent film, theatre, music and culinary arts programs that increase opportunities for primary and secondary public education to spotlight and increase awareness of diversity, sustainability, environment and artisan food,
3) develop long term conservation, recycling, renewable green energy and sustainable and organic agriculture programs and sustainable timelines through its Nellie Green Program and
4) broaden access to bicycling and its benefits through its Nellie Green Pedal Program and community sponsored events. Rogue Creamery's annual report supports the local and global environment and its team members through the Nellie Green Program."

Sustainability is the culture at Rogue Creamery and has the commitment from all management. Successful programs require perseverance, dedication, creative thinking and behavioral change. Many programs, such as solar voltaic, require large upfront funding while others need little or no funding but do require thinking beyond current or established programs. At Rogue Creamery long term thinking and a commitment and belief in the future exists within each member of the team. Sustainability is serious to everyone at Rogue Creamery, each project's value and payback to environment, wildlife and community is reviewed and often funded without regard for economic incentives. A project is supported when Rogue Creamery believes in its value to environment even when the economic payment is not definite. Every facet of the business incorporates sustainable practices. At Rogue Creamery projects are selected, planned, budgeted and sustainably initiated.
Rogue Creamery is taking a look at all suppliers to understand and encourage their commitment to sustainable practices and to support and buy from local businesses whenever possible. The company is committed to organic practices and is working toward having all suppliers organically certified. Considering sustainability is Rogue Creamery's focus when making business decisions from selecting a printing company, a transportation provider or a welder. Each supplier or service will bring a different focus and emphasis to Rogue Creamery often with a side benefit of being more efficient, building better relationships, and financial savings, supporting local business, providing sustainable insights and perhaps providing marketing opportunities.

Sustainable practices are an integral part of the mission and a driving factor in making business decisions at Rogue Creamery since its founding in 1933 .The company's mission is "People dedicated to sustainability, service, and the art and tradition of creating the world's finest handmade cheese." However, under the leadership of David Gremmels and Cary Bryant it has become part of every decision, because it is the right thing to do for the environment, community and the future of the world. Being fiscally responsible, staying true to the mission and an understanding that all everyone does is interwoven and has a ripple affect are a part of what defines Rogue Creamery. Rogue Creamery is a small company, but hopes to be a big example to other companies. Rogue Creamery is proud that it has impacted the world of cheese with its many accolades and blue ribbons, and is proud of the sustainable practices used in achieving those awards. Its team members, community and network take pride in their association and work to make Rogue Creamery's award winning cheese that is celebrated around the world for its regional flavor, healthfulness and purposeful mission. Rogue Creamery lives and breathes every minute, task and decision daily. An unexpected benefit occurred because of the emphasis and leadership in sustainable practices; Rogue Creamery's cheese lovers, guests, distributors and retailers and restaurants showcasing its cheeses want to know the story behind its sustainable practices. Rogue Creamery encourages individuals to drive change with their purchasing power, and in the process many have become ambassadors. In addition, Rogue Creamery provides its sustainable templates to all businesses that inquire.

posted January 2, 2014