Crispy Rosemary Cheddar Grilled Cheese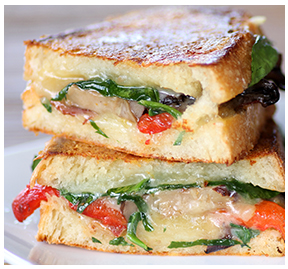 Truly comfort food on a whole new level, these tasty sandwiches are a snap to put together with a little pre-grilling* and make a tasty Meatless Monday meal. Inspired by techniques from Laura Werlin's book Grilled Cheese, Please!.
Ingredients
2 tbsp. olive oil
2 tbsp. balsamic vinegar
2 cloves of garlic, minced
2 large portobello mushrooms, wiped clean with damp cloth
2 large red peppers (or one jar of roasted red peppers)
salt and pepper
8 slices Sourdough Bread
4 tbsp. salted butter, at room temperature
8 oz. Rogue Creamery Rogue's Mary Cheddar, shredded
1 c. fresh baby spinach
Preparation
In a medium baking dish, combine olive oil, balsamic vinegar and half of the minced garlic. Dredge mushrooms in marinade and let rest 15-20 minutes, turning several times.

Remove the top peppers and de-seed. Divide remaining minced garlic and spoon into the cavity of each pepper. Coat outside of pepper with a small amount of olive oil.

Preheat grill to medium-high heat and grill peppers 4-5 minutes per side until blackened. Remove from grill and cover with plastic wrap. Cool slightly and remove skin from pepper. Grill mushrooms, cap side down, for 8-10 minutes until softened. Do not flip mushrooms.* Slice mushrooms and peppers into strips and set aside.

In a medium bowl, combine butter and 4 tbsp grated Rogue's Mary Cheddar. Stir to combine. Generously coat bread slices with cheese-butter mix.

To assemble sandwiches, top unbuttered side of 4 slices of bread with about ¼ c. of cheese. Divide spinach, mushroom and pepper slices evenly among sandwiches. Top with remaining cheese and bread slice.

Cook in batches over medium-low heat in a covered nonstick skillet for 3-5 minutes per side, until nicely browned. Allow to cool slightly before slicing and serving. Enjoy immediately.

*Vegetables may be made ahead to this point and refrigerated overnight. Plan ahead for another meal by adding these to your next grill.



posted April 2014