David Gremmels of Rogue Creamery Honored With Specialty Food Association Business Leadership Award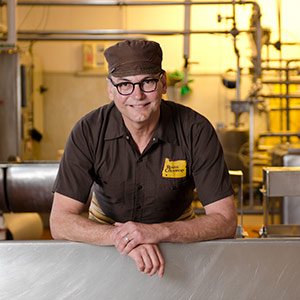 NEW YORK (Jan. 6, 2015) – The Specialty Food Association announced David Gremmels of Rogue Creamery as a winner of its third annual Business Leadership Award honoring members who have gone above and beyond in advancing food standards in society--and society itself--by creating social, economic and environmental impact through innovation and vision." I believe this honor also recognizes those who have influenced me most along my unconventional career discoveries including my colleagues and friends connected to the Specialty Food Association, the American Cheese Society, Oregon Sustainable Board, and the team-members at Rogue Creamery, my parents and my life and business partner Cary Bryant.", said David Gremmels, cheesemaker and co-owner with Cary Bryant of Rogue Creamery.
The award will be presented on Jan. 11, 2015, at the Winter Fancy Food Show in San Francisco; the ceremony, co-presented by the Social Venture Network, is from 5 - 6:30 p.m. at the Moscone Center. Nominations for the awards were made by members of the Specialty Food Association comprised of 3,000 members in the U.S. and abroad. A panel of judges composed of industry experts and influencers selected the honorees from dozens of nominees .The judges included David Gagnon, Organic Trade Association, Brattleboro, Vt.; John Raiche, UNFI, Providence, R.I.; Donna Daniels, Social Venture Network, San Francisco; Rory Treats, City Harvest, New York; and Errol Schweizer, Whole Foods Market, Austin, Texas.