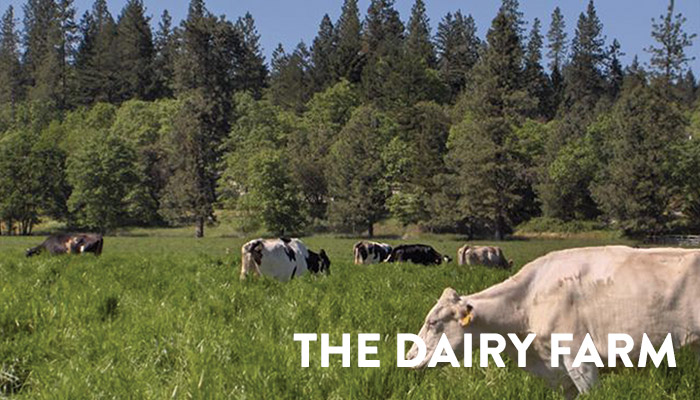 Visit Rogue Creamery Dairy & Farm Stand
Phone:
541-471-7292

Address:
6531 Lower River Road
Grants Pass, OR 97526
Located about 7 miles west of downtown Grants Pass.
Take G street out of town and continue (it becomes Lower River Road)
Hours:
Wednesday through Sunday, 10am - 5pm
Tour Info:
***NOTICE: Guided tours are currently suspended until April 8, 2020. Please call (541) 471-7292 to inquire about scheduling a tour after April 8.
Guided, behind-the-scenes tours take place at 10am and 2pm daily, Wednesday through Sunday. The cost is $3/person, free to kids 12 and under and waived for anyone who supports Rogue Creamery by making a purchase in the Farm Stand. For groups of 5 and fewer, there is no need to call ahead.
Discounts available for large groups, schools, and community organizations. For groups of 6 or more, call ahead to schedule: 541-471-7292.
The Goal of Controlling Our Milk Source
In 2008 we set the goal of controlling our milk source. In order to do that we needed to find a viable dairy in the Rogue Valley that fit our needs and our budget. We found one late in 2011 and have slowly brought it back to life. This has been and continues to be an incredibly ambitious project. There were no animals and the place was derelict, but it was OURS!

Here's an idea of what the Dairy team has done since the project began in 2012:
• Raze the milking barn (roof panels were repurposed into awnings at the Cheese Shop!)
• New electricity in 5 farm buildings
• Solar array to produce our own power
• Demolish & rebuild loafing barn
• Convert milking parlor into new calf barn
• Gently return cows to the farm
• Introduce innovative wastewater repurposing system
• Implement two robotic milking machines to closely monitor herd health and keep our cows happy

Clear Span barn allows more natural light and fresh air to reduce electric light and forced ventilation energy needs.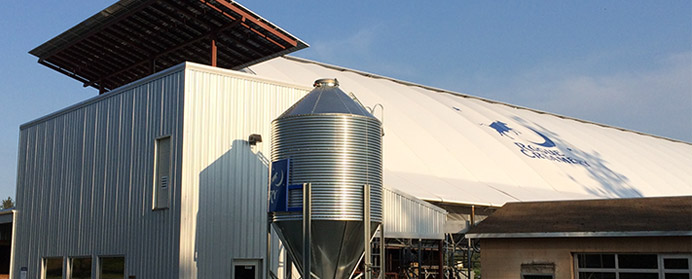 We're Growing Our Herd
We started with fairly good pasture - and to re-establish clovers, orchard grasses, and native fescues, we use organic practices, rotational grazing, and good old-fashioned weeding. Now we have 68 grazeable acres of lush cow salad on the banks of the Rogue River, providing an ideal home for our growing herd.

We are now growing our herd incrementally and generationally. We aim to introduce about 25 new cows each year to maintain a premium and diverse genetic stock, in addition to the heifer calves we selectively breed. As for our young bull calves, occasionally an exceptional one will be kept for breeding; the majority, however, are sold to local families as well as 4H and FFA students.

These girls are in for a different kind of dairy experience - Robotic Milking!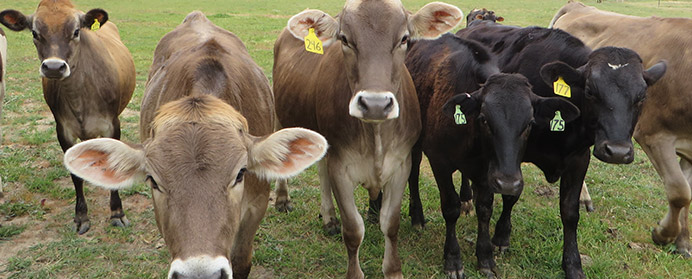 What Are the Advantages of Robotics?
• Consistency in milking- no human personalities involved (the ladies are temperamental)
• Human labor reduction
• Milking according to the cow's lactation cycle and output
• Increase in volume per cow
• 2 year goal - 4 robots and 275 cows all getting along agreeably

Our commitment to organic and sustainable farming
• Modern efficient HVAC equipment.
• RC will supply its own milk keeping our essential resources closer to home.
• Cows are grass fed with supplemental grain.
• No antibiotics used
• No synthetic fertilizers or pesticides used on pastures
• Manure and whey used for fertilizer at the farms.
Keep an eye on this space as our dairy grows to become our primary source for the raw material that lets us do what we do; make great cheese for you!