ROGUE CREAMERY WINS TWICE AT 2016 GOOD FOOD AWARDS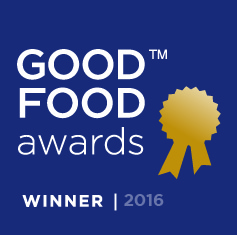 San Francisco, Ca. (1/15/16) Rogue Creamery wins twice at the 2016 Good Food Awards for its Flora Nelle and Rogue River Blue cheeses. Over 800 people attended the celebration including Slow Food Founder, Carlo Petrini and Alice Waters. The Good Food Awards represents truly good food and honors companies who have a reputation for making tasty, authentic and socially responsible products. The competition featured 1,937 entries and showcased regional flavors from across the USA. Rogue Creamery distinguished itself, receiving top scores from the 215 judges and passing a rigorous vetting to confirm that it met the Good Food Awards Standards; these standards include environmentally sound agricultural practices, good animal husbandry, transparency, and responsible supply chain relationships." I am honored to be among this group of cheese makers recognized for their fine cheeses and their holistic, organic, biodynamic and sustainable make processes. Today, Cheese is being recognized along with the practices connected to creating it, and Rogue Creamery is proud that we make our cheese sustainably and organically in the GMO free Rogue Valley", said David Gremmels, President and Cheesemaker during his speech at the Good Food Awards.
Rogue Creamery is joined by two other Oregon Cheese Guild cheesemakers: Ancient Heritage Dairy and Goldin Artisan Goat Cheese, who were also winners and are helping Oregon lead the way toward creating a vibrant, delicious and sustainable food system.
Flora Nelle: This organic, natural- rinded, blue is set with calf rennet, has a crumbly, yet creamy texture, and combines savory, tropical, and sweet cream flavors. The result is a robust and piquant blue with subtle hints of blueberry and a rind that enhances the spicy-nutty and intensely blue flavors that truly capture the Rogue Valley Terroir. Available for purchase soon.
Rogue River: Made annually, starting on the autumnal equinox, it is produced at the turn of the season and is made with richer, late-season milk. This blue, finished with pear-brandy soaked grape leaves, has a decidedly complex flavor that reflects the unique seasonal influences of the Rogue River Valley.
» Click here to purchase