Oregon B Corps Partner Pairings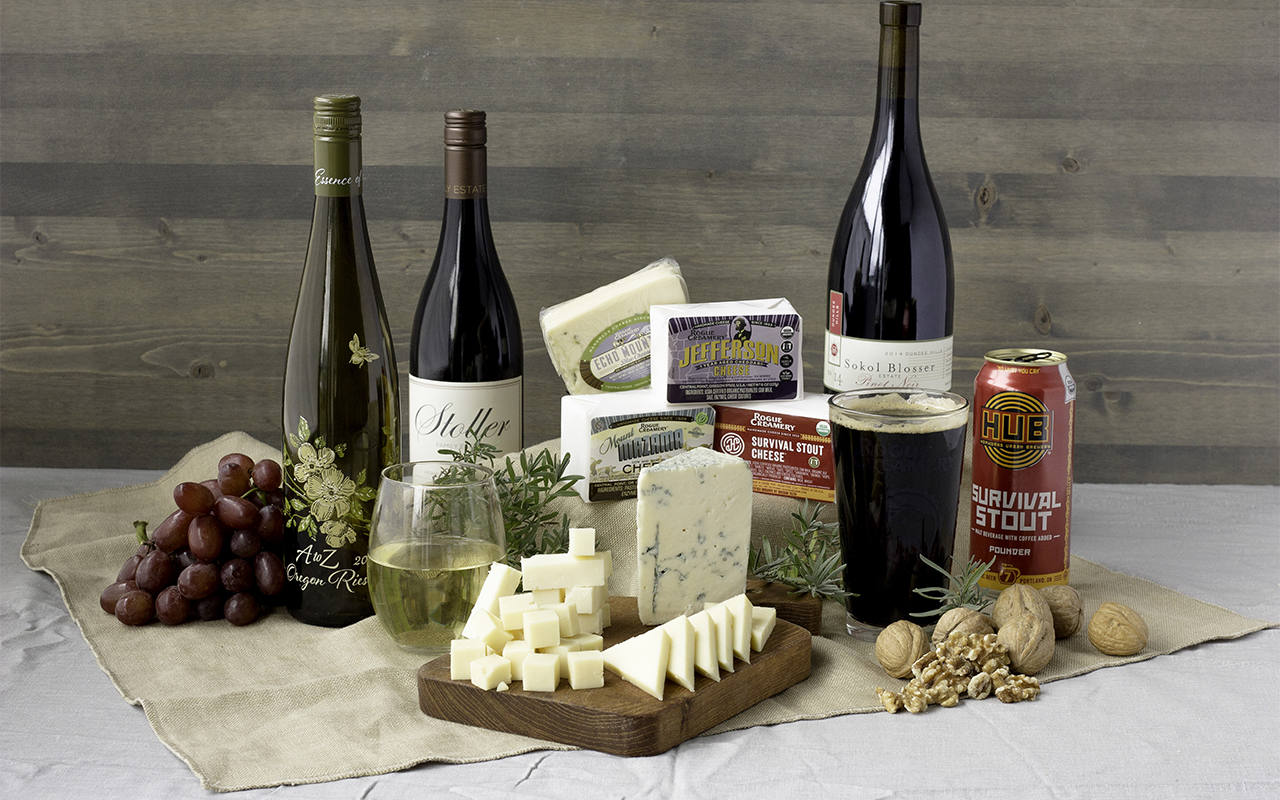 At Rogue Creamery we resolved to develop a program with two of our favorite Oregon Certified B Corps neighbors to highlight some new combinations of wine and cheese as well as beer and cheese. All three companies share values of social responsibility and sustainable practices which certainly align closely with the B Corps mission of meeting rigorous standards of social and environmental performance, accountability and transparency.
Four of our Team Members matched four of our preferred cheeses with four A to Z Wineworks wines and a HUB (Hopwork's Urban Brewery) beer to create some new favorite pairings. The results we found were stunning!
Mount Mazama Cheddar and 2015 Pinot Gris
A to Z Pinot Gris is made with organically grown grapes and has flavors reminiscent of stone and citrus fruit, honeysuckle and Meyer lemon blossoms is exceptionally paired with Mount Mazama handmade mixed milk cheddar created with 20% goat milk and 80% cow milk ratio. The Pinot Gris softened the sharpness of this 24 month aged cheddar and highlighted browned buttered almond and popcorn flavors which I have never been able to pick out until this pairing.
David Gremmels ,Owner/Cheesemaker
Echo Mountain Blue and 2015 Chardonnay
The combination of Rogue Creamery's mixed milk blue, Echo Mountain, and A to Z Winework's Chardonnay is a culinary exploration from rind to paste. Overall smooth, buttery mouth feel, with the wine elongating flavors in this powerhouse of a blue; it finishes with just a hint of floral white flowers. This pairing reminds me of enjoying a hot latte and lemon curd croissant on a fresh spring morning when it's just rained.
Chelsea Faris, Sales Manager
Organic Jefferson 1 year Cheddar and Survival Stout Beer
Pairing the Organic Jefferson Cheddar with Hopworks Urban Brewery's Survival Stout can be both sweet and savory. Initial notes of chocolate, cream, and coffee plus the heavy malt on this beer will make you think you're drinking a root beer float or enjoying some decadent tiramisu. Taking some time to enjoy the cheddar and beer together will bring out underlying darker notes of tobacco, espresso and dark chocolate. It's a nice accompaniment to a spiced bittersweet mole sauce. We recommend finishing your cheese tasting with this pairing as it could be considered a dessert course.
Chelsea Faris, Sales Manager
Organic Survival Stout Cheddar and 2014 Pinot Noir
A to Z Winework's Oregon Pinot Noir and Hopworks Urban Brewery's Survival Stout Cheddar Cheese, hand crafted by Rogue Creamery, make the perfect match. Bold coffee notes provide a full-bodied and robust initial taste while strong cherry and tobacco notes round out a truly delightful sensory experience.
Brian Moss, Production and Warehouse Manager
Organic Jefferson 1 year Cheddar and 2016 Oregon Riesling
A to Z Wineworks Riesling pairs beautifully with Rogue Creamery's Cheddar. The sweetness of the wine compliments the slight sharpness from the crunchy, calcium lactate crystals of the perfectly aged cheddar. The layered citrus and floral notes of the Riesling enhance the balanced taste of fruit and browned butter that are the signature flavors of The Creamery's handmade and hand milled cheddar.
Francis Plowman, Cheese Narrator
Stay tuned for more future pairings with Rogue Creamery cheeses and additional Oregon B Corps winemakers