Pairing Suggestions

Choose the perfect accompaniments for your cheese. Cheese can bring new life to a wide array of food and beverages when served together. This is when it's okay to play with your food!

Pairing Tip:Regional pairings are often successful; 'if it grows together, it goes together'. Pair light, crisp wines and beers with fresh cheeses. Dessert wines go nicely with cheeses that have a salty, acidic nature. Keep in mind, what follows are suggestions and there are no rules to this game; have some fun and take notes when you find a combination you love. Wines can vary significantly from vintage to vintage but coffee, tea, and beer are pretty reliable year in and year out.
We've included wine recommendations in the cheese descriptions below followed by some guidelines for beer, coffee, and tea pairings.


Blue Cheese:
Generally pairs well with full-bodied reds, or sweeter whites such as Gewürztraminer or late harvest whites. Port is classic. Look for malt forward ales and barleywines.

Rogue River Blue:
A puny wine won't stand up to Rogue River Blue, so choose wines of age and distinction: Viognier, classic French or German Gewürztraminers, Syrah, Cabernet Franc, Tempranillo, dessert wines; pear brandy; whiskey or rum; brown ales and stouts.

Oregon Blue:
Oregon Blue is a versatile cheese that accents salads of every season - winter beets, spring mesclun, summer corn and tomatoes, and fall squash. You could present a wedge alongside earthy fruits like figs and red pears. It adds great tanginess to rich meats like lamb burgers and hanger steak. A perfect blue for the cheese board, this Oregon Blue pairs nicely with a supple Viognier, Riesling or Pinot Noir. Also look for a dark beer like porter or stout. And mellow coffee goes well with it too..

Crater Lake Blue:
This is a great addition to the classic Wedge Salad. On the cheese board, Crater Lake Blue is a sturdy anchor for a cheese selection. It is wonderful paired with dried pears or dark honeys and served on a sweet biscuit or oat cake. The bold and savory flavors in this blue call for beverages with more fruit or touch of sweetness like a Late Harvest White, Syrah or Port. This blue is also a great match for beers like imperial stout and barleywine.

Caveman Blue:
This fudgy blue goes well with strawberries or orange marmalade. The addition of Caveman Blue can transform a simple side dish of roasted butternut squash, toasted pecans and dried cranberries into a main course. Caveman's earthy backbone is a wonderful foil for a range of beverages — bold reds like Zinfandel, sweeter picks like American style desert wines, playful whites like Tokaji, and malty ales.

Flora Nelle Blue:
Bold blues like Flora Nelle yearn for accompaniments that are both earthy and sweet like dark buckwheat honey or figs soaked in port. Serve for dessert alongside a round, sweet Sauternes or PX Sherry. A few crumbles of Flora Nelle go a long way in the kitchen. Top salad with toasted pecans and Flora Nelle with a sweet, balsamic vinaigrette dressing. How about pizza with Flora Nelle, coppa, and caramelized onions? It's also lovely baked into savory shortbread crackers served with fig jam. Look for a balanced amber ale if you're in the mood for beer.

Oregonzola:
An elegant and luscious blue cheese fitting for any cheese board, Oregonzola pairs well with prosciutto, figs, and pears. Crumble over warm polenta and top with toasted pine nuts for a rich and flavorful side dish. This is our favorite blue for cooking because it melts so well; incorporate it into your next fondue or mac and cheese for a nice twist. This creamy and fruity blue is lovely with red wines like Syrah and Pinot Noir but also shines alongside Vin Santo.

Smokey Blue:
Smokey Blue can elevate burgers or devilled eggs to new heights. On the cheese board, this blue provides great contrast to accompaniments like nut brittle and roasted or preserved fall fruits. The strong savory flavors of Smokey Blue can stand up to bigger red wines like Cabernet Franc or Zinfandel but are also beautiful with white wines that have sweetness and adequate depth like Sauternes. For more adventurous palettes, try this blue with Bourbon or a peaty single malt Scotch.

Echo Mountain Blue:
For a cheese plate, simply serve it with wine and full-flavored wheat crackers.Echo Mountain is a great stuffing for meat, poultry and vegetables. Stuff chicken breasts with Echo Mountain, shallots and spinach; stuff pork chops with Echo Mountain, sage and onions. This blue likes a lighter red like Pinot Noir to match its delicate flavor or a Viognier with herbaceous, floral tones. Also try Cabernet Franc or a peppery Cabernet Sauvignon. For beer, try an English bitter.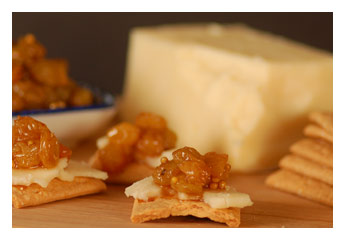 Cheddars and TouVelle:
Chocolate Stout:
This is made to pair with beer and stout is the obvious choice but also consider Lager and Maibock as well. Not as sharp as many cheddars, Chocolate Stout Cheddar is also nice with a lighter Chardonnay or Pinot.The maltiness of this cheese comes to life when you melt it; it makes a fantastic grilled cheese.

Hopyard:
An ideal accompaniment to an IPA or pilsner. It also draws out the mineral, earthy and floral flavors in a noble Riesling. We ike it with candied nuts as well as with cured meats. Take a plate of nachos up a notch by melting Hopyard on top.

Mount Mazama
Mount Mazama will stand out on a cheese board with a range of accompaniments from chutneys to roasted nuts. The ploughmans lunch was designed around cheeses like Mount Mazama, its sweeter notes provide a satisfying contrast to savory and acidic accompaniments like pickles and onions. Make a hearty sandwich of cured ham with Mount Mazama and spicy mustard and serve with a cold pint of strong ale. This cheese also goes well with a sparkling white like a Cremant du Jura or a Southern Oregon Merlot.

Cacow Belle
The addition of cocoa and cinnamon to this cheddar makes it sing with just about any red wine we have tried. It's also a great breakfast cheese with a cup of coffee. Melt it on a grilled chicken sandwich for a quasi-Mole lunch.

Jefferson Cheddar:
Our classic cheddar is versatile enough to get along well with reds, whites, ales, lagers, coffee, and tea. This is cheddar cheese - put it everywhere!

La-Di-Da Lavender Cheddar:
This strikingly floral cheese is a stunner on a dessert tray with chocolate or lavender honey paired with a sparkling or dessert wine or a Farmhouse Saison. A great melting cheese, La-di-da Lavender is a magical ingredient in savory shortbreads and scones. Surprise your guests when you work it into an omelette or gratin.

Rogue's Mary Cheddar:
Earthy notes of rosemary in this butttery cheese are enlivened when paired with a crisp white like Pinot Gris or a Belgian ale. Put Rogue's Mary, roasted pecans, and rhubarb jam in your picnic basket with a baguette and North Coast Brewery's Brother Thelonious; post it on facebook - you will get lots of likes.
Original TouVelle:
This semi-firm cow's milk cheese is a workhorse in the kitchen because it is salty and buttery and it melts like a champ. Wonderful for sauces, it browns beautifully and is a dynamite topping for baked casseroles and pizza. Enjoy TouVelle with a refreshing white wine like Pinot Gris, a modest amber ale, or lager.

Here are some of our favorite Rogue Creamery/ Rogue Ales pairings:
Crater Lake Blue with Rogue Ales Old Crustacean Barleywine
Caveman Blue with Rogue Chocolate Stout
Smokey Blue with Rogue Hazelnut Brown Necter
Cheese Curds with Rogue Honey Kolsch
Mount Mazama with Rogue Dead Guy Ale
Jefferson Cheddar with Rogue Brutal IPA
Rogue River Blue with Rogue Rolling Thunder Imperial Stout
Cheese and Coffee:
Cheese and Coffee? Yes! We enjoy coffee with breakfast whether its cereal, bagels and cream cheese, or yogurt so the idea of pairing coffee and dairy isn't a stretch. Also, consider that cheese is often served after dinner andmany folks enjoy a cup of coffee then, too.
Generally speaking we've found that our aged cheddars (Mount Mazama and Jefferson) go best with full bodied coffee with medium acidity like those from Colombia or Brazil.

Our blue cheeses are higher in acid so look for Sumatran, Tanzanian, and Ethiopian coffees as a counterpoint.
Cheese and Tea:
Our favorite tea maker, the late Steven Smith of Smith Teamaker, gave us some great pointers once:

"So many different flavor nuances in tea can compliment and contrast the flavors in cheese," says Smith. "Whether it's tea of one particular type, blended teas or even flavored types, there are unique flavor profiles in our ingredients in the blend that can really compliment the cheese."

"In these single origin teas, you really get that evolution of flavor experience: sharp jagged edges, dense centers and sometimes a dry or caramelized finish," he notes. These flavors evolve on the palate in the same way a fine wine or beer would.

"With black tea, there's often an inherent sweetness mixed up with malty notes and tannic, dark cherry or leather, smoky and spicy notes, all really great counterpoints for cheeses that have sharp characteristics or nuttiness. For that reason, black teas are a really strong combination with sharp cheddar." (Mount Mazama, Jefferson)

To pair blue cheese, Smith goes a different direction. "With the blues, I'd recommend our Red Nectar which is a combination of South African Rooibos and Honeybush or our Big Hibiscus. Hibiscus has that tart kind of flavor would be a lovely contrast with Caveman and Oregon Blue."

Iced tea is great anytime, and pairs nicely with cheeses and fruits and other kinds of items that you might have before or after a meal.